Sculpt + Tone
Regular price
₹ 1,890.00
Sale price
₹ 1,229.00
Unit price
per
35% off
Inclusive Of All Taxes
The Rose Quartz Gua Sha is an ancient wellness tool where 'Gua' means 'scrape' and 'Sha' means 'sand or pebbles.' Hence, this treatment tool helps stimulate blood circulation, bringing more oxygen to the skin, releasing tension and adding a youthful glow.
Benefits
Stimulates blood micro-circulation

Contours and lifts the skin

Reduces puffiness, fine lines and wrinkles

Relaxes tension in the facial muscles
REVIEWS

Kubra Qadri

Gua Sha is the perfect skin tool. I live the quality of its crystal. It has helped in improving blood circulation and it helps in sculpting of the face. It is so relaxing and worth the money. Love RAS products.

Manju Srivastava

This is my first experience of gua sha and I am very satisfied with the product
HOW TO USE

After cleansing your face, apply the RAS Rose Nectar Face Spritz, followed by 2-3 drops of the RAS Face Elixir of your choice.
This will enhance product penetration and allow better movement of the tool.
Then, move the Gua Sha stone in outward and upward motions using light to medium pressure, ensuring the tool is always flat (at 15 degrees) against the skin.
After every stroke, wiggle and massage towards the ends of the face. Repeat each stroke a minimum of 3 - 5 times.

DIRECTIONS OF USE:

On a clean face, apply a the RAS Face mist followed by the RAS Face Elixir. Then, move the Gua Sha stone in outward and upward motions using light to medium pressure, ensuring the tool is always flat (15 degrees) against the skin. After every stroke wiggle & massage towards the ends of the face. Repeat each stroke a minimum of 3-5 times.




STEPS TO USE:

Start with the neck in upward strokes - from the collarbone till you reach your jaw. You can also do the sides and the back of the neck going upwards
Using the notched side of the stone, move to the right side of your face, start from your chin and stroke through your jawline till you reach your ear.
Use the long flat side of the stone to move upwards on the cheek. The stone should rub across your cheek. Support your skin on the opposite side with your other hand.
Move to under-eye region and place the notched side of the stone right below the eye(facing upward), close to the top of your nose and stroke it upwards.
Run the notched edge of the stone along your eyebrow and stroke upward and outward.
INGREDIENTS IN FOCUS

Rose Quartz is the stone of unconditional love and beauty and is popularly used to amplify one's charm and promote emotional healing.
COMPLETE INGREDIENTS

Authentic Rose Quartz Gua Sha with storage box
ADDITIONAL INFORMATION

CARE

You can clean the gua sha using water and a damp cloth or mitt. Do not use hot water or allow any chemicals to touch the natural stone. Handle with care and avoid dropping the product. Store in a cool and dry place. For external use only.

Keep the product in a cool dry place away from sunlight and closed at all times.

For external use only. Avoid contact with eyes, If contact occurs, rinse thoroughly with cool water. Conduct a patch test on your skin before proper application. To test your skin for allergy, apply a 1-inch patch on the inner, lower arm, rub it in and leave for 24 hours, observing any signs of a reaction. If you are already using several actives in your regime, kindly consult the team for details.

As our products are handcrafted with natural & organic ingredients in small batches, there may be slight variations in their color and aroma.

Refer to brand website for updated complete ingredient list.

This product is manufactured by:

RAS BEAUTY PRIVATE LIMITED C/o Adithya Bio-Tech Lab & Research Pvt Ltd, 14&15/7, Nandanvan Road, Chandanidih, Raipur, Chhattisgarh, India, 492099.

Country of Origin- IN
FAQ

Can I use a gua sha stone everyday?

Yes, it is perfectly safe to use a gua sha stone as part of your daily skincare routine.

Which gua sha should I pick between the jade and rose quartz gua sha stones?

While both gua shas help stimulate blood circulation, minimise fine lines and lift your skin, by nature, rose quartz is known to have more of a soothing and calming effect while jade helps detoxify skin to help with signs of ageing. Pick your gua sha based on your specific needs.

How can I decide if I need a face roller or gua sha stone?

Pick a face roller if you want to: Soothe your skin, increase blood flow, reduce puffiness or are a beginner at using facial tools. Pick a Gua Sha stone if you want to: Stimulate facial muscles, detoxify and release muscle tension, give your skin a natural lift and contour and promote lymphatic drainage

Do I need to apply anything on my skin before using a gua sha stone?

We suggest using our RAS Face Elixirs on your skin before using a gua sha stone. The gua sha helps your skincare penetrate better and also allows the tool to move more swiftly, with less pressure, on your skin.

Which step of my skincare routine does a gua sha fit into?

It's best to use a gua sha after you've applied your serum or face oil and before you moisturise your skin.

Will a gua sha make me break out?

While gua sha stones don't aggravate any skin concerns as such, if you have active acne, we recommend waiting for that to subside before you use a gua sha on your skin.

Can I use a gua sha if I have sensitive skin?

Yes, you can use a gua sha if you have sensitive skin. However, we recommend only doing so with very gentle strokes and only for a few minutes at a time so you can understand its effect on your skin and proceed accordingly.

The colour of the stone on the tool I purchased is different from the image. What should I do?

Due to natural stone formations, each tool will be unique in colour markings. Be rest assured that the efficacy of the product is not compromised due to these variations.
View full details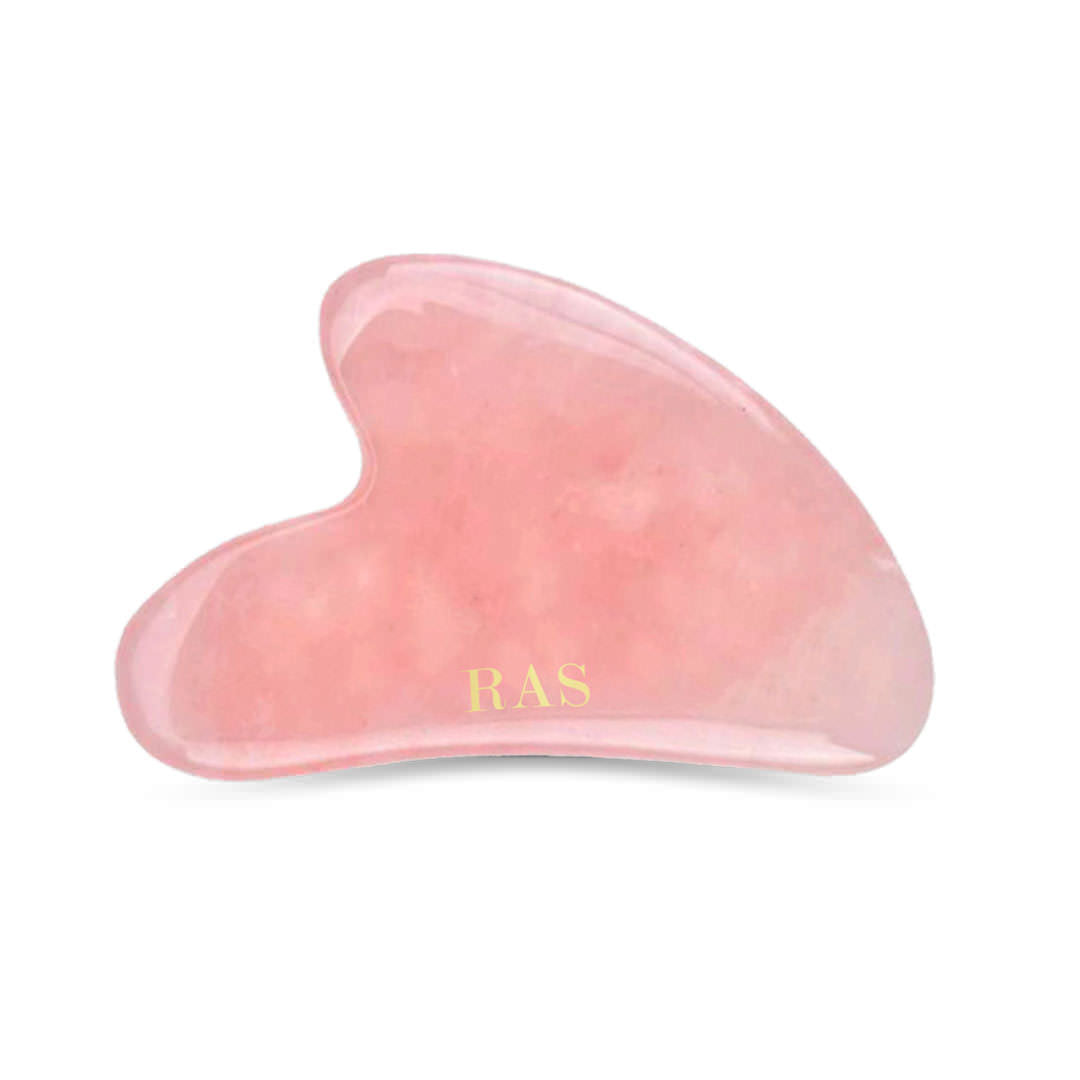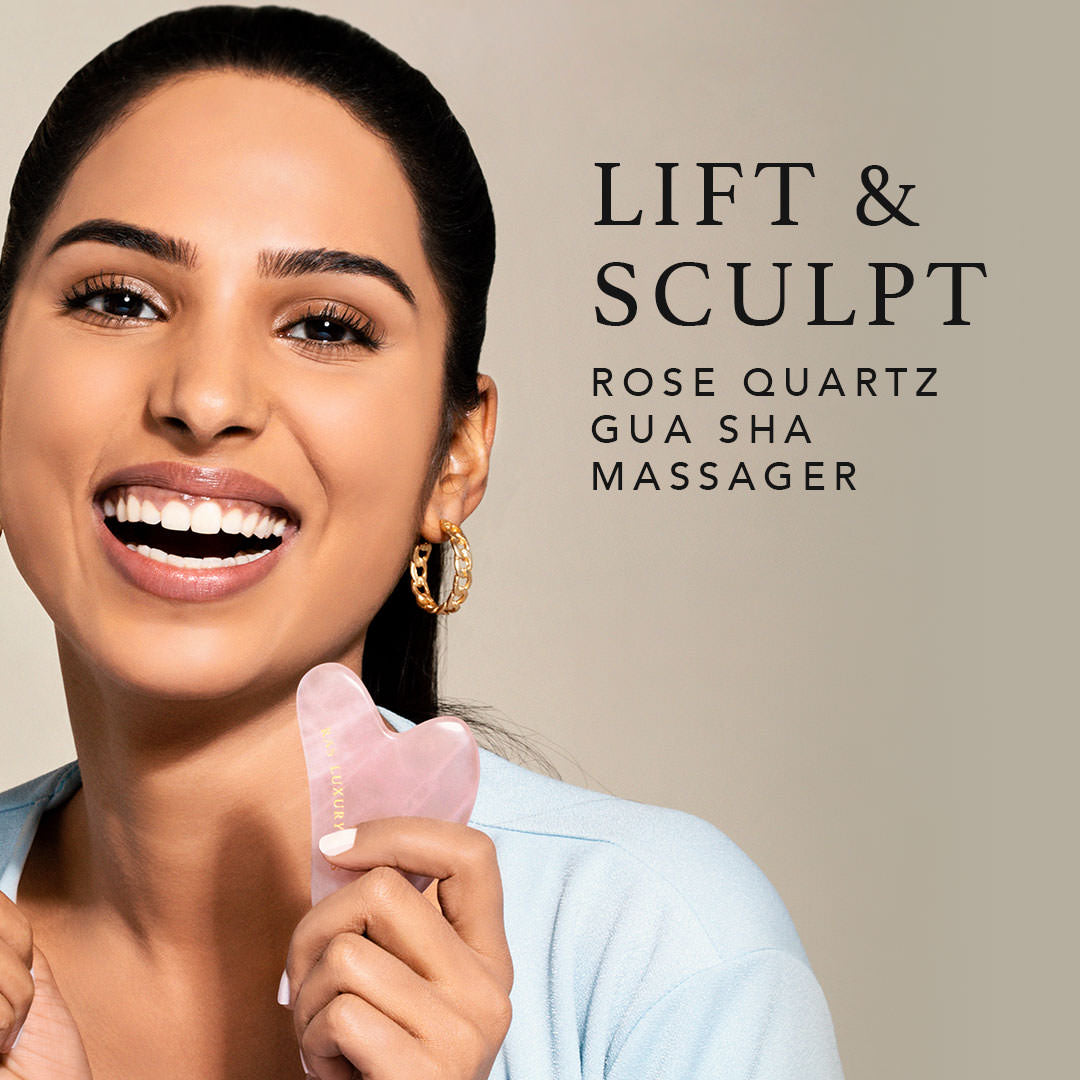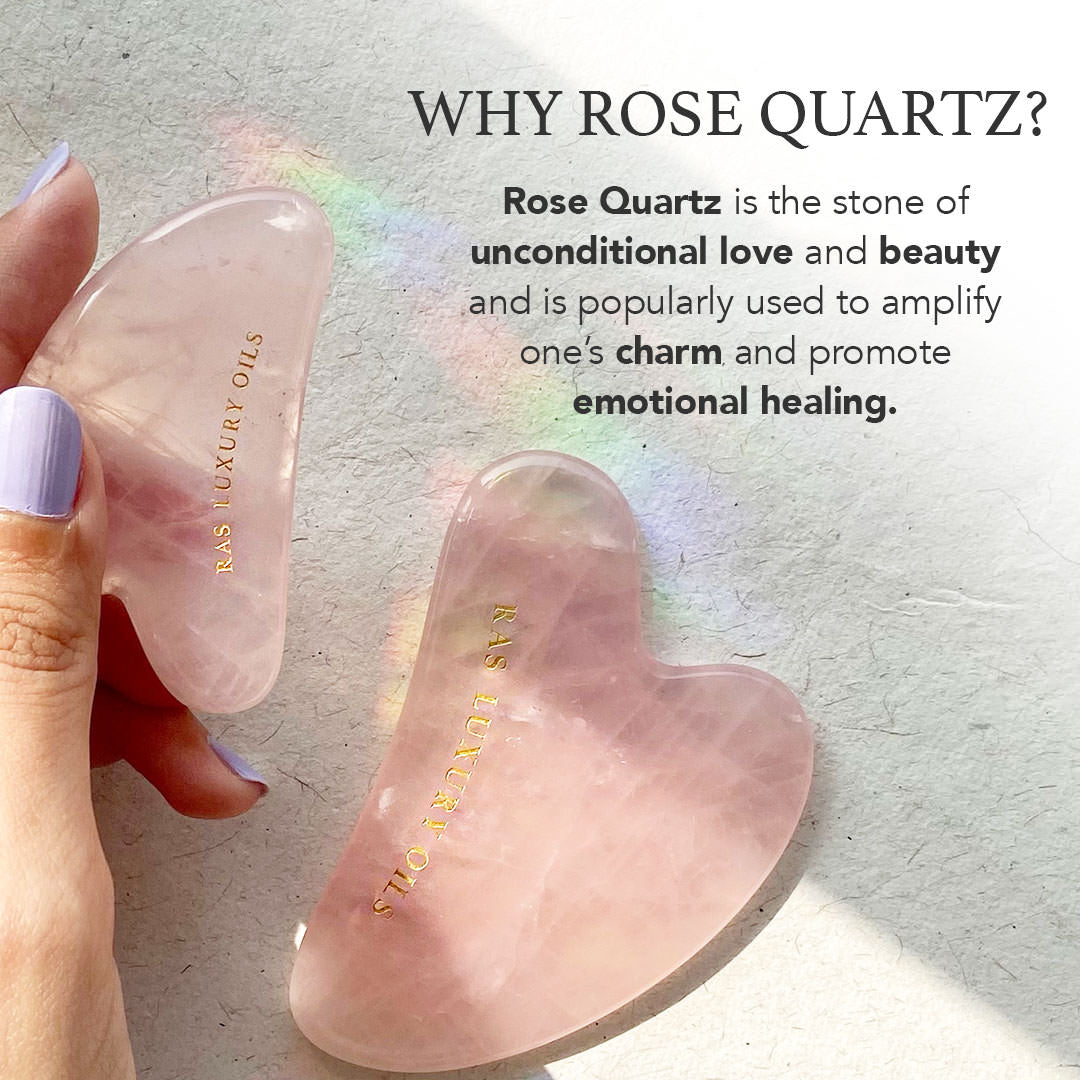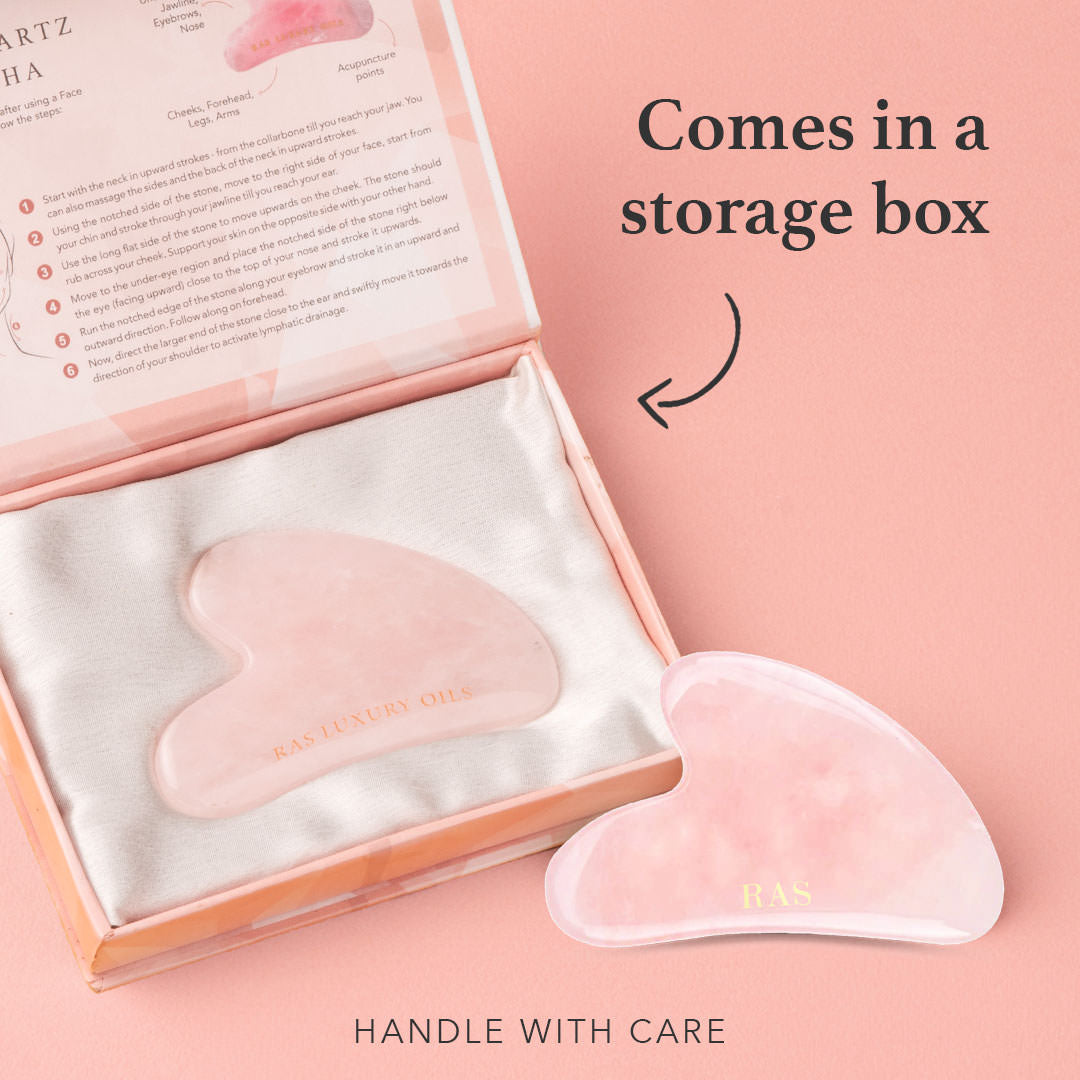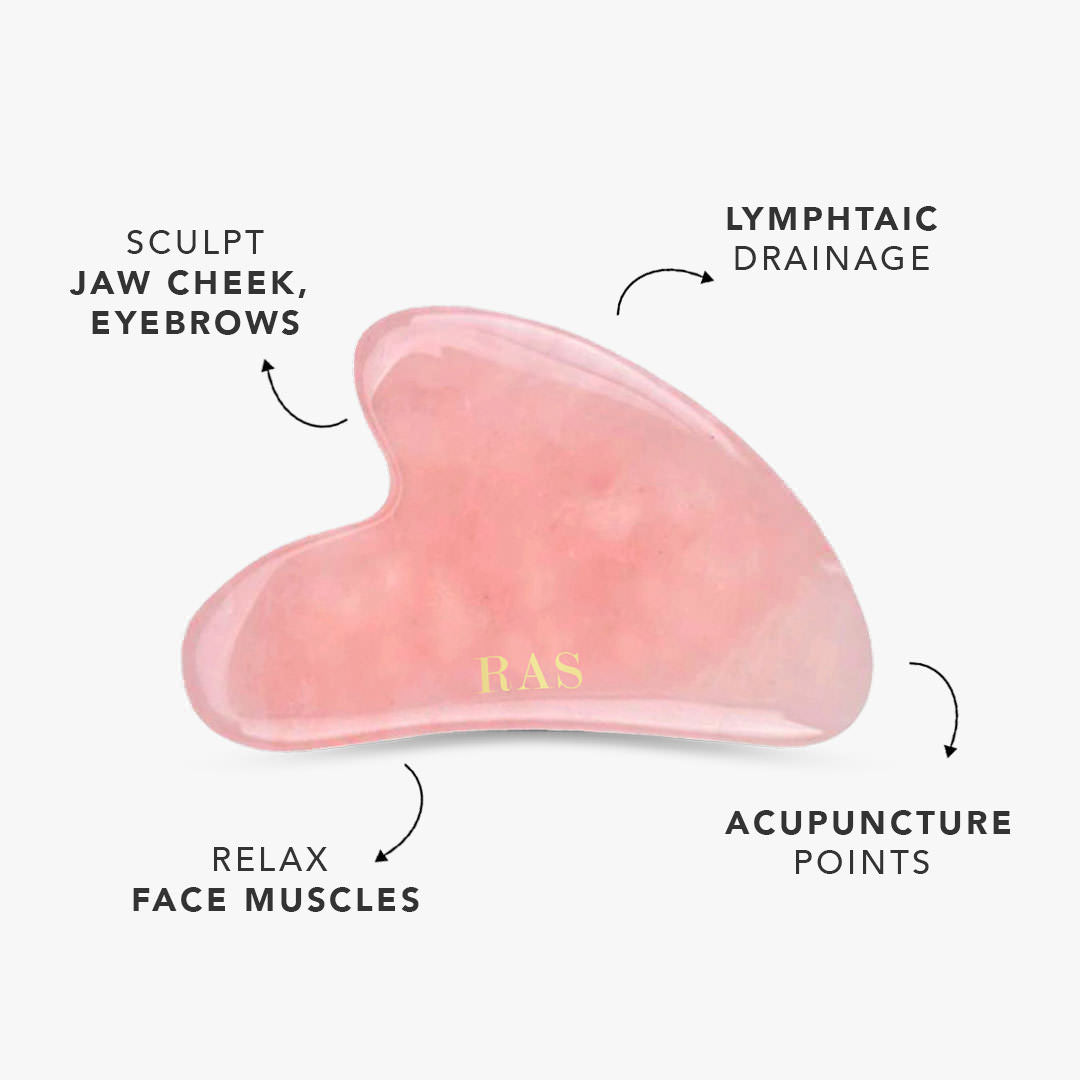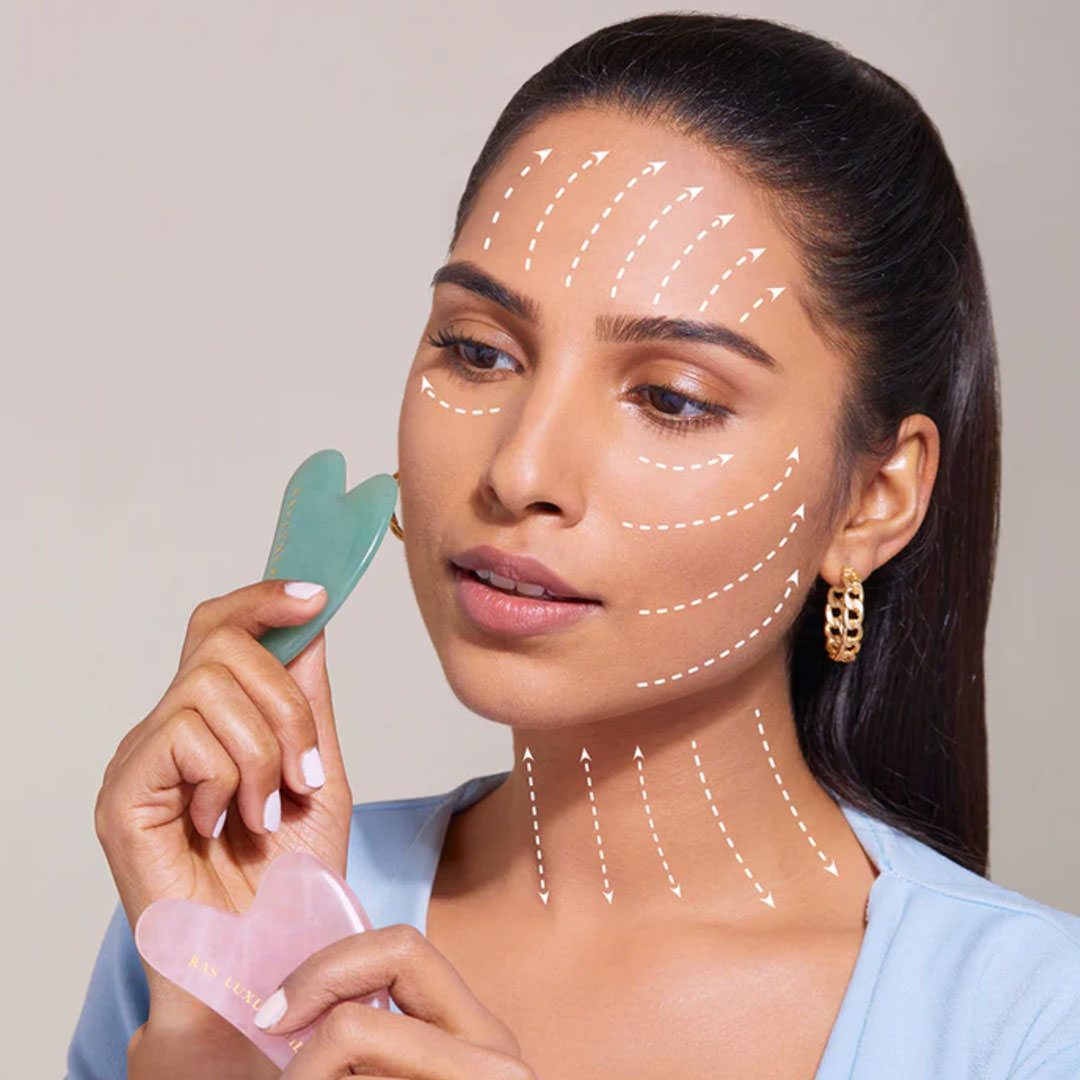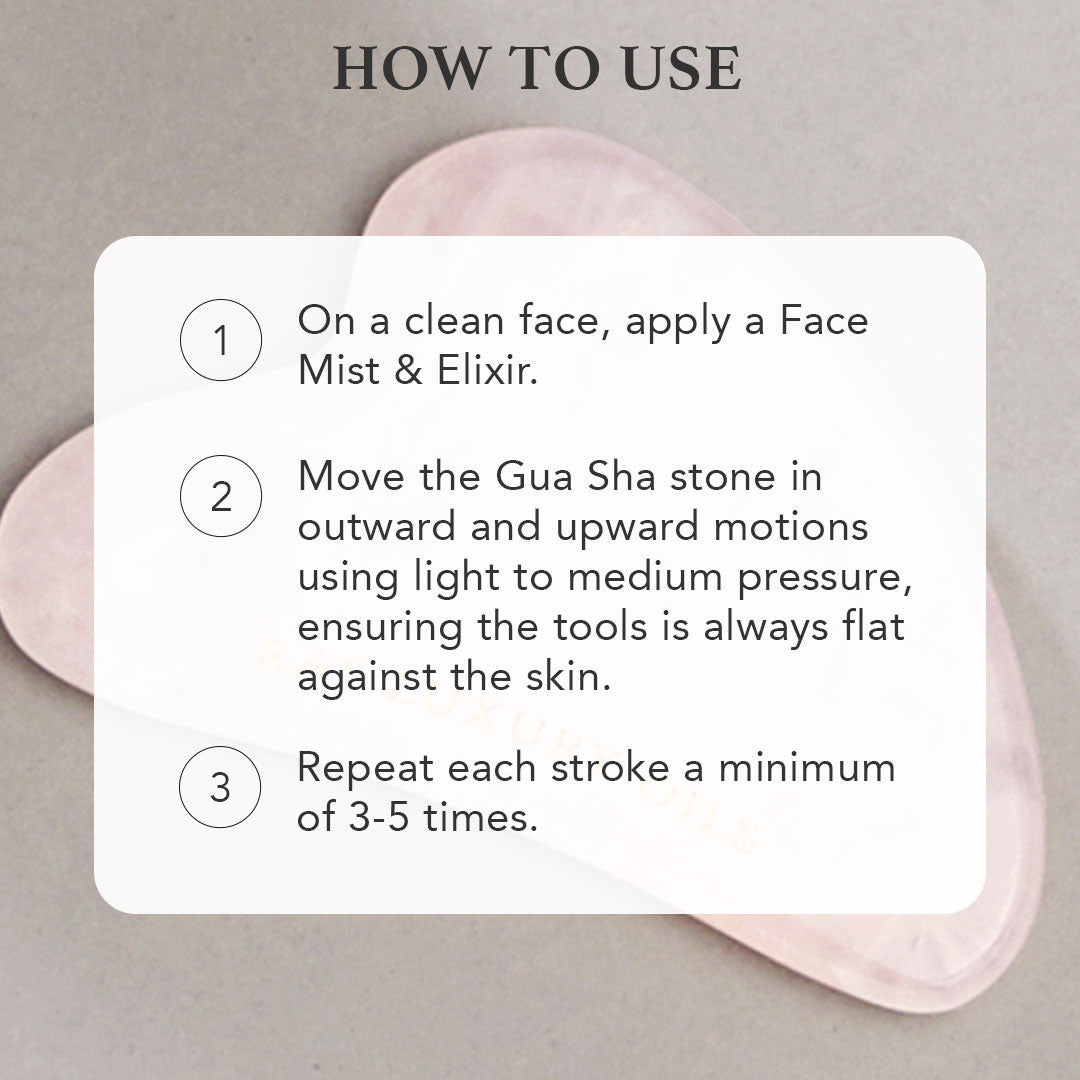 Rose Quartz Sha.
Honest review…. Simply loving this product. Quality is very good … looking forward for to more products from Rus Luxury.
No reply on WhatsApp messenger
One more feedback,,, I have a query regarding the stone used for face roller and gua sha and therefore I clicked on WhatsApp messenger icon present on this same RAS luxury website and put forward my question there on last Saturday. Never received any reply.
Farm To Face Skincare
Our Philosophy stems from the desire to enchant our patrons with products containing only the 'ras' of nature and nothing else. Being the first 'farm to face' venture in India with our own farms and research lab, we make available the luxury of a beauty regime in the form of 100% pure, natural products!
Read More