Brighten & Glow
Regular price
₹ 2,990.00
Sale price
₹ 2,240.00
Unit price
per
25% off
Inclusive Of All Taxes
A lightweight moisturising face serum packed with the finest botanical oils and extracts to brighten, repair and nourish your skin. The glimmering blend is loaded with Vitamins C, A and E along with antioxidant-rich Rosehip, Pomegranate, Frankincense, Saffron, and Calendula oils infused with 24k Gold Flakes. This Bestselling formula not only gives even toned glowing skin, but helps reduce signs of ageing like lines and wrinkles by keeping skin healthy and nourished.
Benefits
Reduces dark spots, pigmentation and blemishes

Plumps skin by reducing fine lines and wrinkles

Improves overall skin radiance & glow

Promotes blood circulation + collagen production
REVIEWS

Zahra Motiwala

I am on my 8th bottle. 24k RAS Gold Elixir is always in my routine

Gargi Sawant

Absolutely loved the elixir my skin feels smooth and glowy
HOW TO USE

Take 2-4 drops of the Gold Elixir on your fingertips—never let the dropper touch your skin directly to prevent contamination.
Warm them up slightly between your hands and press and dab it into your skin.
Massage the elixir into your cleansed face and neck with light, soothing movements, always upwards and outwards.
For best results, use the elixir in the morning after moistening your skin with our Glow Potion Essence Toner for better absorption and a glistening glow.

Multipurpose use: Use as face serum, Use with moisturiser, use as lip serum, use as an under eye treatment & use with face massages
INGREDIENTS IN FOCUS

24k Gold- Repairs & prevents skin ageing

Pomegranate Oil: Antioxidant-rich, Reduce Free Radicles

Rosehip Oil- Enriched with vitamin c helps in reducing pigmentation

Calendula- Calming, soothing, anti-inflammatory properties
COMPLETE INGREDIENTS

Rosa Canina (Rosehip) Fruit Oil, Corylus Avellana (Hazelnut) Seed Oil, Simmondsia Chinensis (Jojoba) Seed Oil, Squalane(Olive), Punica Granatum (Pomegranate) Seed Oil, Calendula Officinalis(Calendula)Flower Extract, Crocus Sativus (Saffron) Extract, Rosa Damascena (Rose) Flower Oil, Boswellia Carterii (Frankincense) Oil, Santalum Album (Sandalwood) Oil, Lavandula Angustifolia (Lavender) Flower Oil, ,Aroma**, 24k Gold. Citronellol*, Citral *, Eugenol*, Geraniol*, Linalool*, Limonene *, Farnesol*.


*Natural Essential Oil Content ** Clinical Grade Pure Essential Oil Blend
ADDITIONAL INFORMATION

Keep the product in a cool dry place away from sunlight and closed at all times.

For external use only. Avoid contact with eyes, If contact occurs, rinse thoroughly with cool water. Conduct a patch test on your skin before proper application. To test your skin for allergy, apply a 1-inch patch on the inner, lower arm, rub it in and leave for 24 hours, observing any signs of a reaction. If you are already using several actives in your regime, kindly consult the team for details.

As our products are handcrafted with natural & organic ingredients in small batches, there may be slight variations in their color and aroma.

Refer to brand website for updated complete ingredient list.

This product is manufactured by:

RAS BEAUTY PRIVATE LIMITED C/o Adithya Bio-Tech Lab & Research Pvt Ltd, 14&15/7, Nandanvan Road, Chandanidih, Raipur, Chhattisgarh, India, 492099.

Country of Origin- IN
FAQ

Can I use a face elixir everyday?

Yes, our oil is light enough to be used as part of your daily skincare routine. If you'd like, you can use this oil twice a day as well.

Is this face elixir the same as a serum?

Yes, this is an oil-based serum or facial oil with botanical extracts, plant oils and vitamins to help brighten your skin and strengthen your skin barrier.

Which step of my skincare routine does the elixir fit into?

You're meant to use the face elixir in place of your serum, after you tone and before you moisturise. You can also choose to skip your moisturiser if you use the elixir. We recommend using a gua sha or face roller after applying it to help it penetrate your skin and to give your skin a massage as well.

How do I know which elixir is the right one for me?

If you have dull skin: Radiance Beauty-Boosting Day Face Elixir or 24k Gold Radiance Beauty Boosting Face Elixir
If you have oily skin: Luminous Skin Clearing Face Elixir Nourishing Serum
If you have mature skin: Infinity Anti-Ageing Face Elixir
If you're looking for a night treatment: Revival Rejuvenating Night Face Elixir

Will this face elixir make me breakout?

The 24k Gold Radiance Beauty Boosting Face Elixir is non-comedogenic and will not cause acne. Regardless, if you have acne-prone skin, it is always best to consult your dermatologist before including a new product in your skincare routine.

What else do I need to know about the product?

Make sure you only use the product externally. Avoid contact with eyes. If contact occurs, rinse thoroughly with cold water. Always conduct a patch test before trying a new product directly on your face. To test your skin for allergies, apply a 1-inch patch on the inner, lower arm, rub it in and leave for 24 hours, observing any signs of a reaction.

I repurchased the face elixir and it looks slightly different than my previous bottle. What should I do?

Please note that since our products are handcrafted with natural and organic ingredients in small batches, there may be slight variations in their colour and fragrance. Be rest assured that the efficacy of the product is not compromised due to these variations.

I'm pregnant. Can I use the elixir?

Yes, our formulation is safe for pregnant women. In any case, it is always worth checking with your gynaecologist or dermatologist before you introduce any new skincare products or ingredients in your routine.
View full details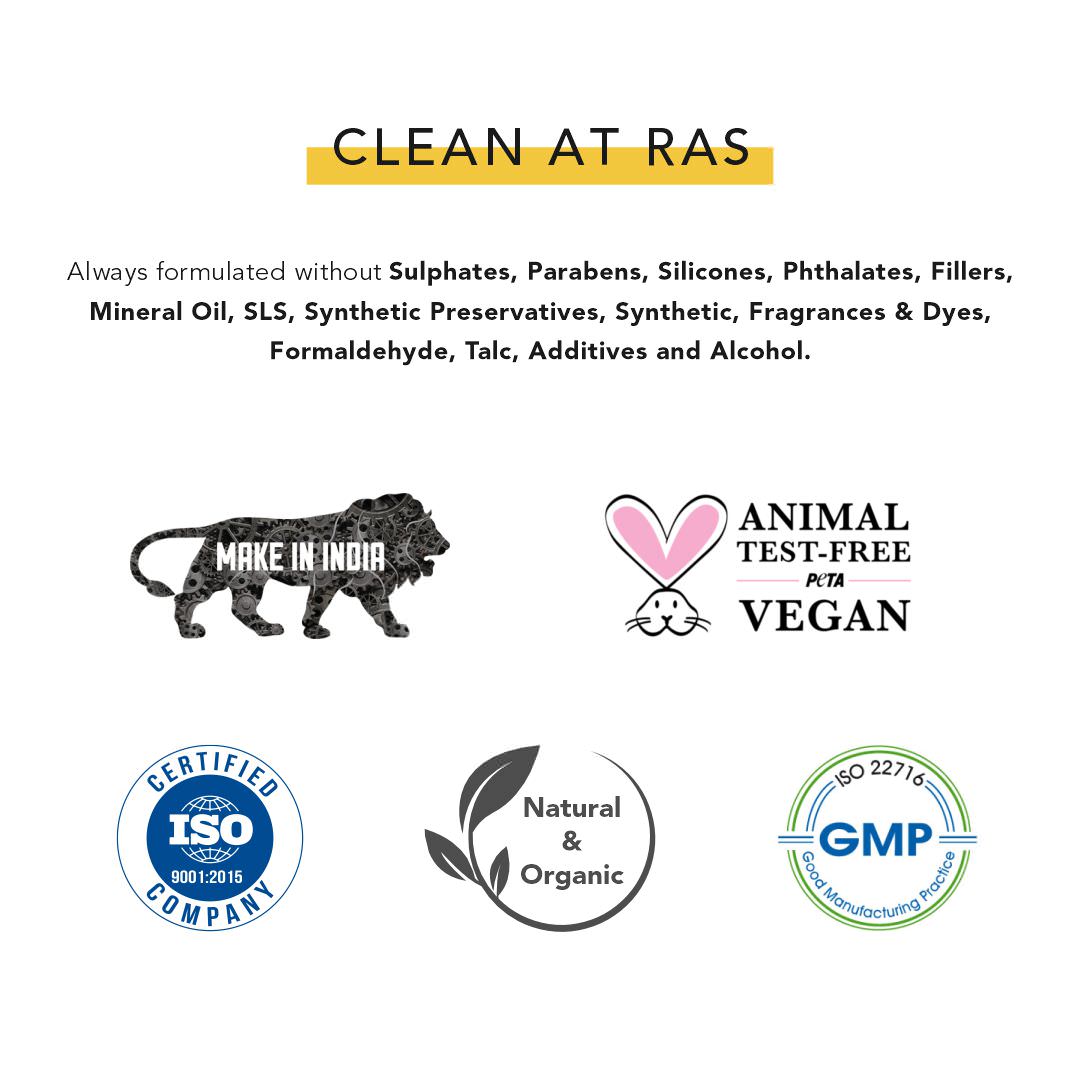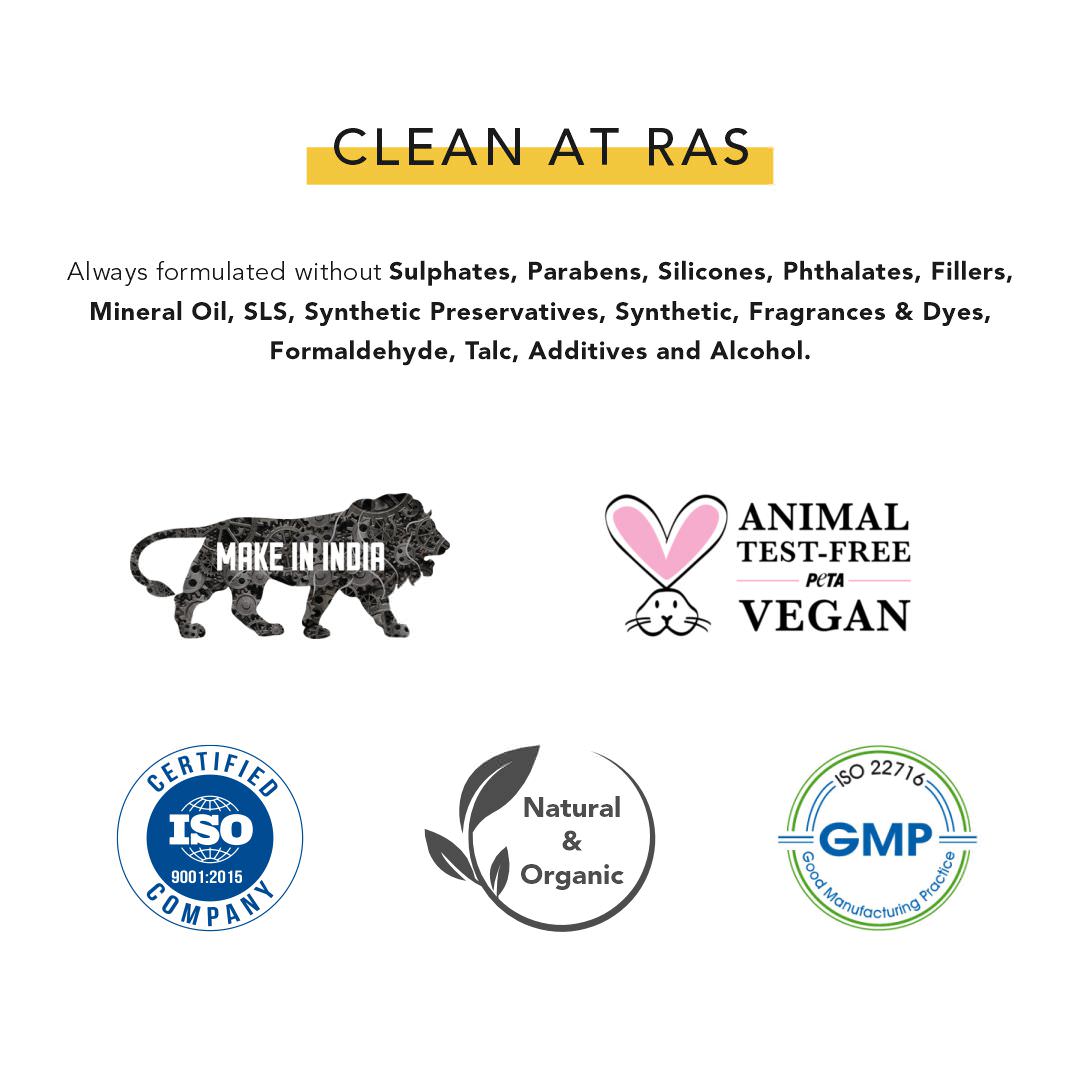 Best products
My husband became a skin care junkie with Ras products before he was not in interested for his skin care and I introduced lots of products for him he doesn't liked and nor seem interested but when I introduced Ras products n he loves it ❤️❤️ thank u Ras n we r seeing visible results ✌️✌️
24K Gold Radiance Beauty Boosting Face Elixir
Excellent product
Has lightened the pigmentation on my cheek and also treating my uneven facial skin so quite happy
Farm To Face Skincare
Our Philosophy stems from the desire to enchant our patrons with products containing only the 'ras' of nature and nothing else. Being the first 'farm to face' venture in India with our own farms and research lab, we make available the luxury of a beauty regime in the form of 100% pure, natural products!
Read More