Relaxes Tension In The Facial Muscles
Regular price
₹ 2,600.00
Sale price
₹ 1,820.00
Unit price
per
30% off
Inclusive Of All Taxes
The Germanium Gua Sha is an ancient wellness tool where 'Gua' means 'scrape' and 'Sha' means 'sand or pebbles'. Made with germanium, it balances ageing-related ions and shields against environmental stress. Its acupressure pods promote healing, resulting in radiant, even-toned skin.
Benefits
Stimulates Blood Micro-Circulation

Contours And Lifts The Skin

Reduces Puffiness, Fine Lines And Wrinkles

Relaxes Tension In The Facial Muscles
HOW TO USE

1. After cleansing your face, apply the RAS Rose Nectar Face Spritz, followed by 2-3 drops of the RAS Face Elixir of your choice.
2. This will enhance product penetration and allow better movement of the tool.
3. Then, move the Gua Sha stone in outward and upward motions using light to medium pressure, ensuring the tool is always flat (at 15 degrees) against the skin.
4. After every stroke, wiggle and massage towards the ends of the face. Repeat each stroke a minimum of 3 - 5 times.
INGREDIENTS IN FOCUS

Germanium: Made with 100% pure natural germanium granules. The natural properties of germanium are believed to have health benefits, promotes blood circulation, reduces inflammation, enhances immune system function, and restores balance to the body.
COMPLETE INGREDIENTS

Main Material: Stainless Steel

Germanium Granules: 100% pure natural germanium granules
ADDITIONAL INFORMATION

Keep the product in a cool dry place away from sunlight and closed at all times.

For external use only. Avoid contact with eyes, If contact occurs, rinse thoroughly with cool water. Conduct a patch test on your skin before proper application. To test your skin for allergy, apply a 1-inch patch on the inner, lower arm, rub it in and leave for 24 hours, observing any signs of a reaction. If you are already using several actives in your regime, kindly consult the team for details.

As our products are handcrafted with natural & organic ingredients in small batches, there may be slight variations in their color and aroma.

Refer to brand website for updated complete ingredient list.

This Product is Assembled and Marketed by:

RAS BEAUTY PRIVATE LIMITED C/o Adithya Bio-Tech Lab & Research Pvt Ltd, 14&15/7, Nandanvan Road, Chandanidih, Raipur, Chhattisgarh, India, 492099.

Country of Origin- IN
FAQ

Who can use this Gua Sha tool?

The Germanium Stainless Steel Gua Sha Tool is suitable for most individuals, but it should be avoided in cases of broken or infected skin, skin allergies, during pregnancy, or in cases of bleeding tendencies.

What are the benefits of germanium for the skin?

Germanium is believed to promote better blood circulation, reduce inflammation, enhance immune system function, and improve skin quality, including reducing wrinkles and enhancing skin tone.

Does Gua Sha cause pain?

Gua Sha should be performed with moderate pressure and should not cause significant pain. If you experience discomfort or pain, discontinue use.

How should I clean the Gua Sha tool?

To clean the Gua Sha tool, you can use warm water and mild soap, then dry it with a clean
View full details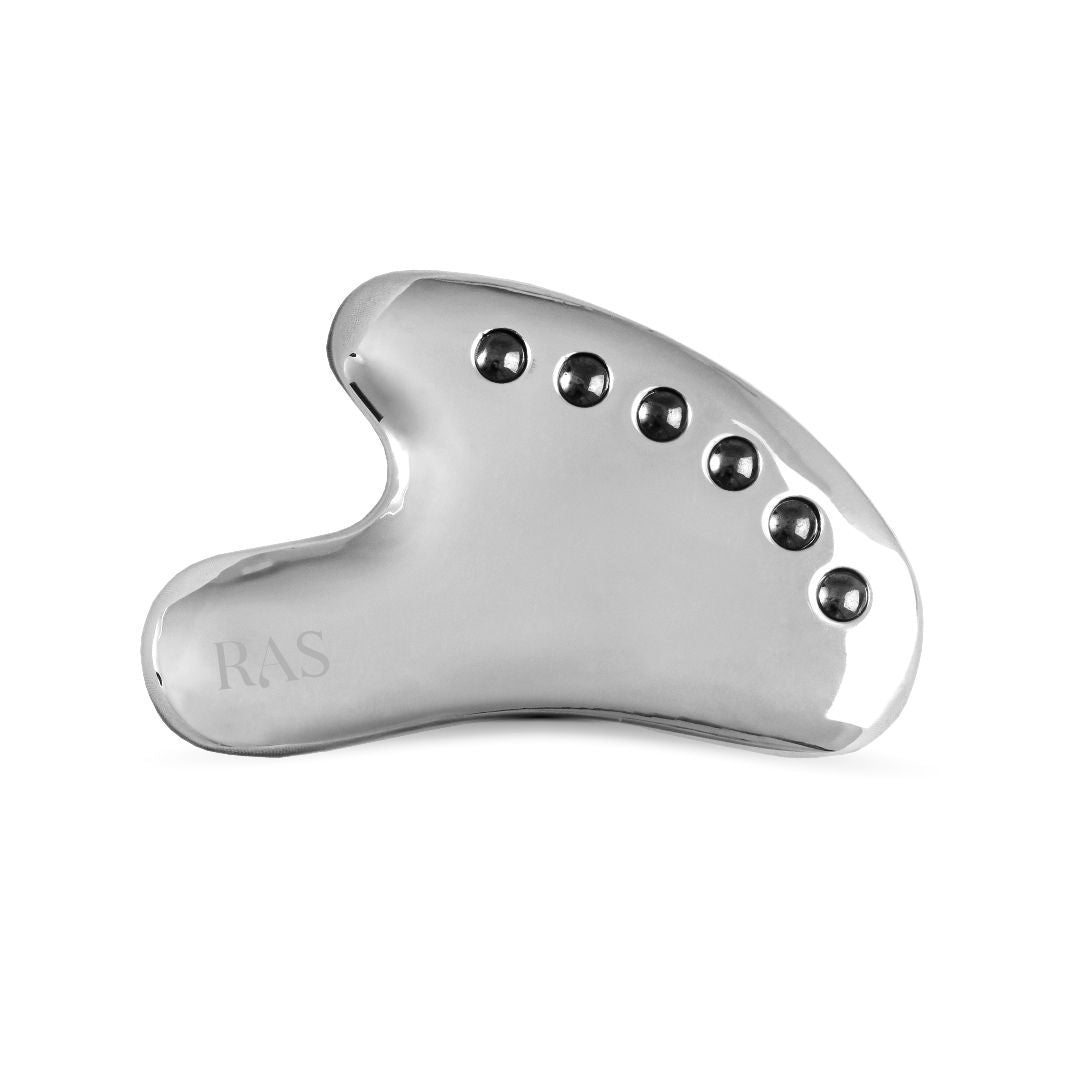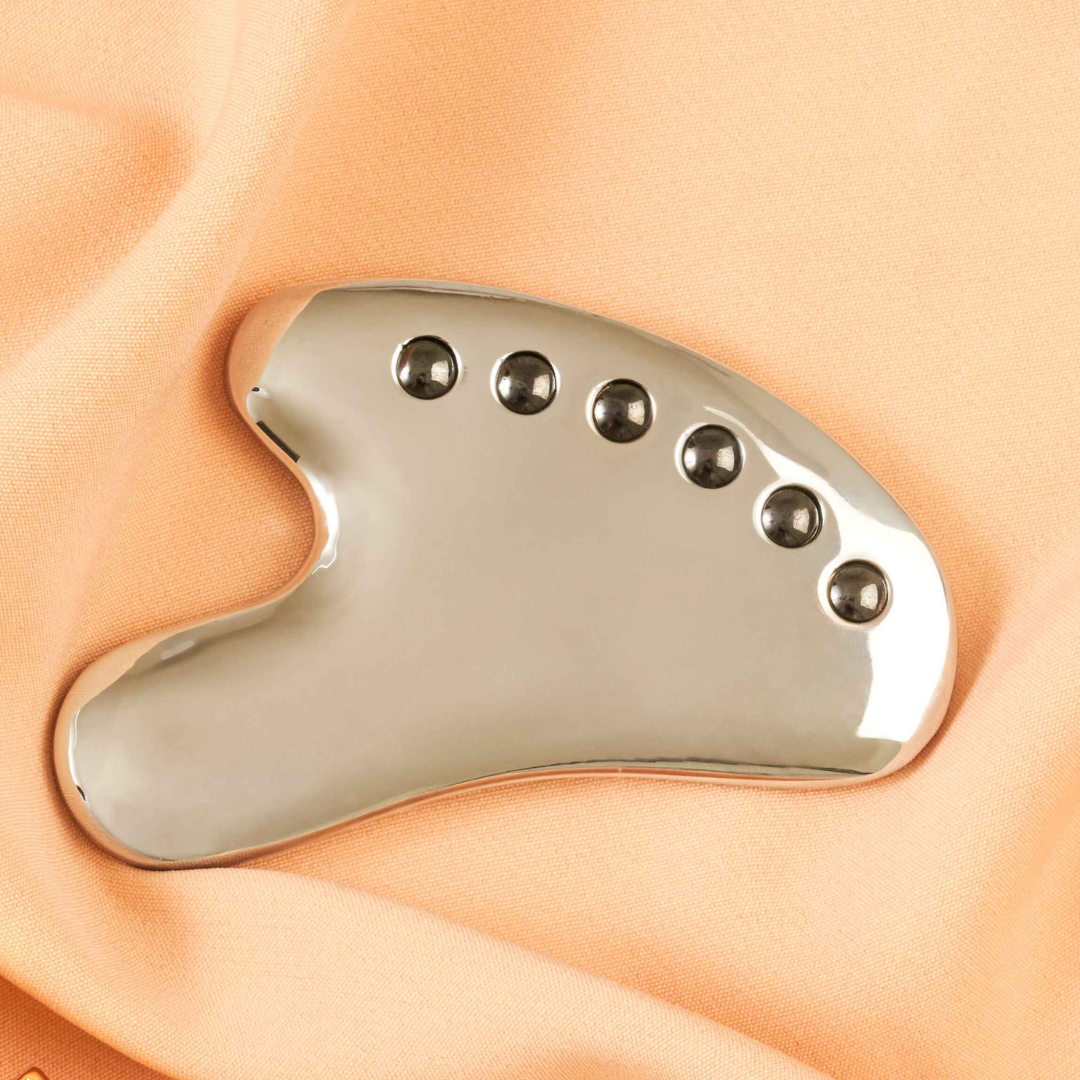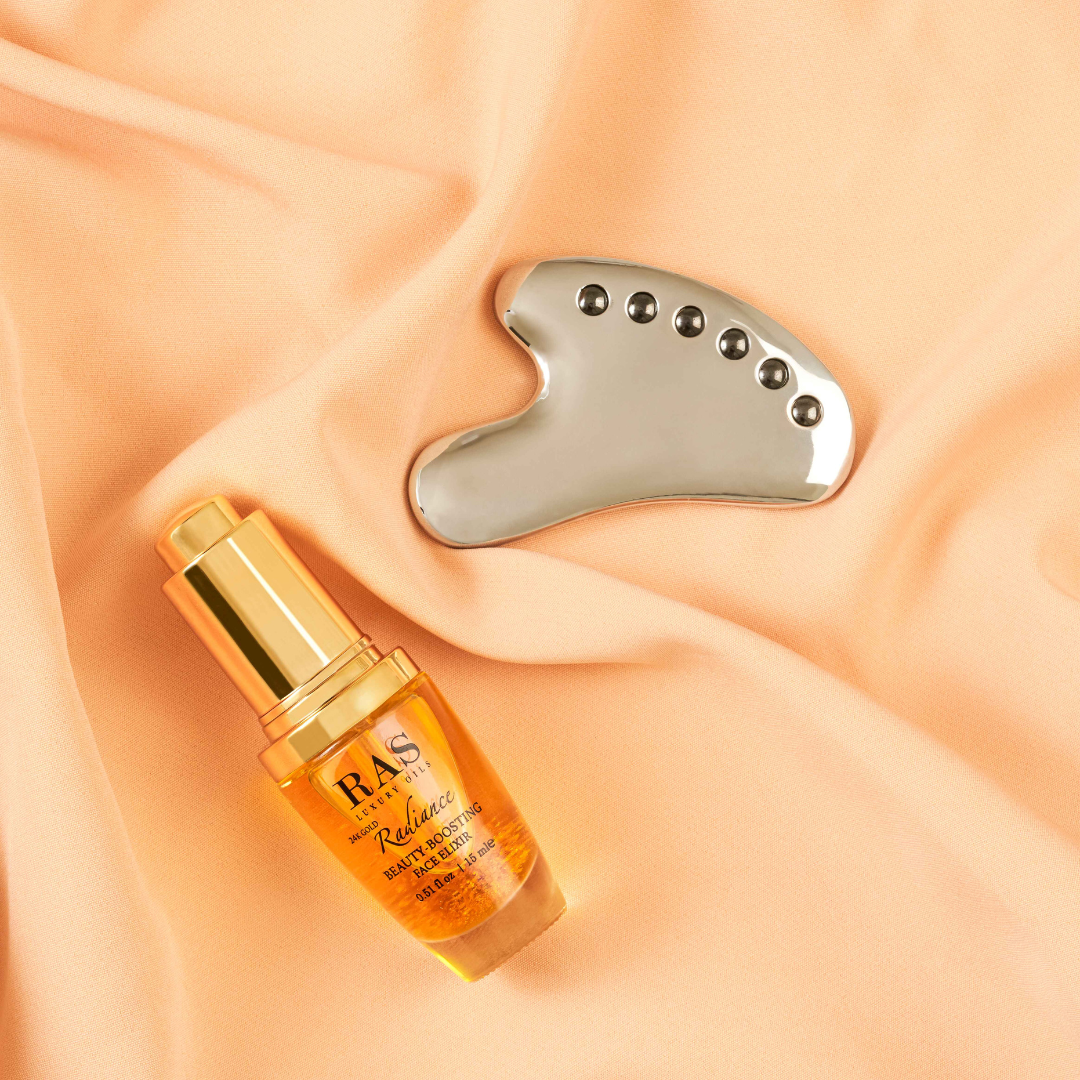 The results are evident. My face feels lifted, and the glow is real
This Gua Sha has introduced me to a whole new level of skincare. A must-try
Celebrate Your Radiance With RAS
Our Philosophy stems from the desire to enchant our patrons with products containing only the 'ras' of nature and nothing else. Being the first 'farm to face' venture in India with our own farms and research lab, we make available the luxury of a beauty regime in the form of 100% pure, natural products!
Read More