Hydration + Repair + Strengthen
Regular price
₹ 2,890.00
Sale price
₹ 2,165.00
Unit price
per
25% off
Inclusive Of All Taxes
Quantity: 50gm glass jar with metallic scoop spatula
4 Active ingredients, 13 Antioxidants, 14 Botanicals
Our Super Recharge Bakuchiol Night Cream is a luxurious skincare product designed to nourish and replenish your skin while you sleep. Infused with 13 antioxidants and actives including ceramides, peptides, blue tansy, along with bakuchiol, a natural alternative to retinol, this unique blend of high performing ingredients helps to promote skin renewal, reduce the appearance of fine lines and wrinkles, and soothe and Recharge your skin so you wake up with beautiful Glowing skin.
Benefits
DEEP HYDRATION: Multimolecular hyaluronic provides instant plumping and hydration


REDUCE LINES: Repair and renew skin cells to reduce fine lines and wrinkles


IMPROVED SKIN BARRIER: Ceramides fill the intercellular space and make skin stronger


MOISTURE LOCK: Seal in hydration by forming a film for supple bouncy skin


REDUCE PIGMENTATION: Improved cellular turnover to to fight hyperpigmentation
HOW TO USE

Take a small amount of the night cream and gently massage it onto your face and neck using upward and outward motions. Do not pair bakuchiol with other retinoids or exfoliants to avoid irritation and sensitivity. For best results use it in combination with the RAS Super Charge Multivitamin Day Cream.!

ow to use in skincare routine: Use after cleanser, toner &/ serums.

How to use with other RAS products: RAS Face cleanser followed by RAS Face mists or Toners FOllowed by RAS Gel Serums and then the Night cream followed by face Elixir
INGREDIENTS IN FOCUS

Bakuchiol: A natural derivative from babchi plant that mimics retinol


4 Active: Cyclopepties < Hyaluronic acid and ceramides ensure skin is strengthened overnight


13 Antioxidants: Boost skins ability to resist free radicle damage


14 Botanicals: Chamomile, Blue tansy & green tea improve balance in skin

COMPLETE INGREDIENTS

Calendula Officinalis (Calendula) Flower Water, Aqua, Chamomilla Recutita (Chamomile) Extract, Camellia Sinensis (Green Tea), Aloe Barbadensis (Aloevera) Leaf Extract, Cocos Nucifera (Coconut) Fruit Extract, Butyrospermum Parkii (Shea) Butter, Castanea Sativa (Spanish Chestnut) Seed Extract, Cyclotetra Peptide, Ceramide Complex (Ceramide NP, Ceramide AP, Ceramide EOP, Phytosphingosine), Glycerine*, Bakuchiol, Cyamopsis Tetragonalova (Guar) Gum, Carrageenan (Red Algae) Gum, Xanthan Gum*, Phospholipids*, Sphingolipids*, Sodium Hyaluronate, Tocopheryl Acetate, Allantoin, Sodium Gluconate*, Ethylhexylglycerin, Phenoxyethanol, Pelargonium Graveolens (Geranium) Oil, Salvia Sclarea (Clary Sage) Oil, Jasminum Officinale (Jasmine) Oil, Tanacetum Annuum (Blue Tansy) Oil. *Plant-Based Ingredients.
ADDITIONAL INFORMATION

UNIQUE INGREDIENTS, Synergistic Formula:
Unleash the power of innovation with our breakthrough formula, a game-changer that combines multiple actives, antioxidants, and SPF into one extraordinary skincare solution. Make with Floral water bases they are super effective Yet functional for everyday use.

PERFECT TEXTURE:Experience the sheer bliss of our bouncy and lightweight textures, delicately gliding onto your skin, leaving it feeling weightless and effortlessly radiant. Suitable for all skin types

EXTRAORDINARY RESULTS:
Ditch the Ordinary, Embrace the Extraordinary. Elevate Your Skincare Game with our SuperCharged beauties

TRIED since Years & TESTED by your fav Beauty influencers:
Introducing our meticulously crafted formulas, the result of five years of relentless dedication and countless variation of thousands of permutation & combinations. Through an extensive process of selections and testing we narrowed it down and then invited top beauty influencers to experience and provide their valuable feedback on our 8 final formulas to give you these 2,

SIMPLIFY YOUR ROUTINE:
Simplify and Amplify! With just two products, our day and night creams, you can streamline your routine and achieve remarkable results.

This product is manufactured by:

RAS BEAUTY PRIVATE LIMITED C/o Adithya Bio-Tech Lab & Research Pvt Ltd, 14&15/7, Nandanvan Road, Chandanidih, Raipur, Chhattisgarh, India, 492099.

Country of Origin- IN
FAQ

How often should I apply the RAS Super Recharge Night Cream?

We recommend applying the night cream every evening before bed as the last step of your skincare routine for maximum rejuvenation and hydration.

Can the RAS Super Recharge Night Cream help reduce the appearance of fine lines and wrinkles?

Yes, our night cream contains bakuchiol, a natural alternative to retinol, known for its ability to reduce the appearance of fine lines and wrinkles and promote skin firmness.

Is the RAS Super Recharge Night Cream suitable for dry skin?

Absolutely! Our night cream is formulated with nourishing ingredients that deeply hydrate and replenish dry skin, leaving it feeling soft and supple.

Can I combine the RAS Super Recharge Night Cream with other actives?

To avoid potential irritation, we recommend not pairing our night cream with other retinols or AHA products. Consult with a skincare professional for personalized advice please free to reach us on 9329773003or care@rasluxuryoils.com
View full details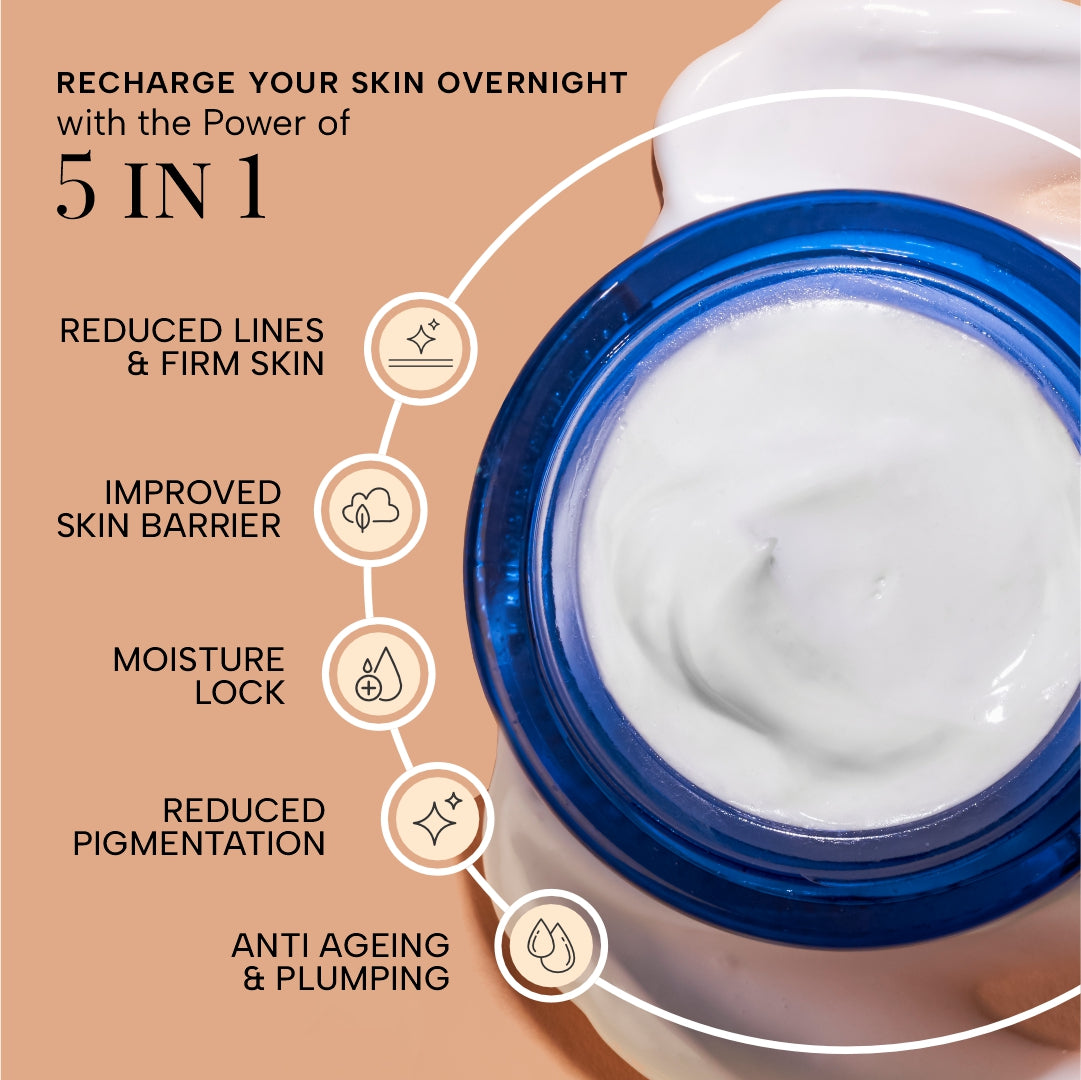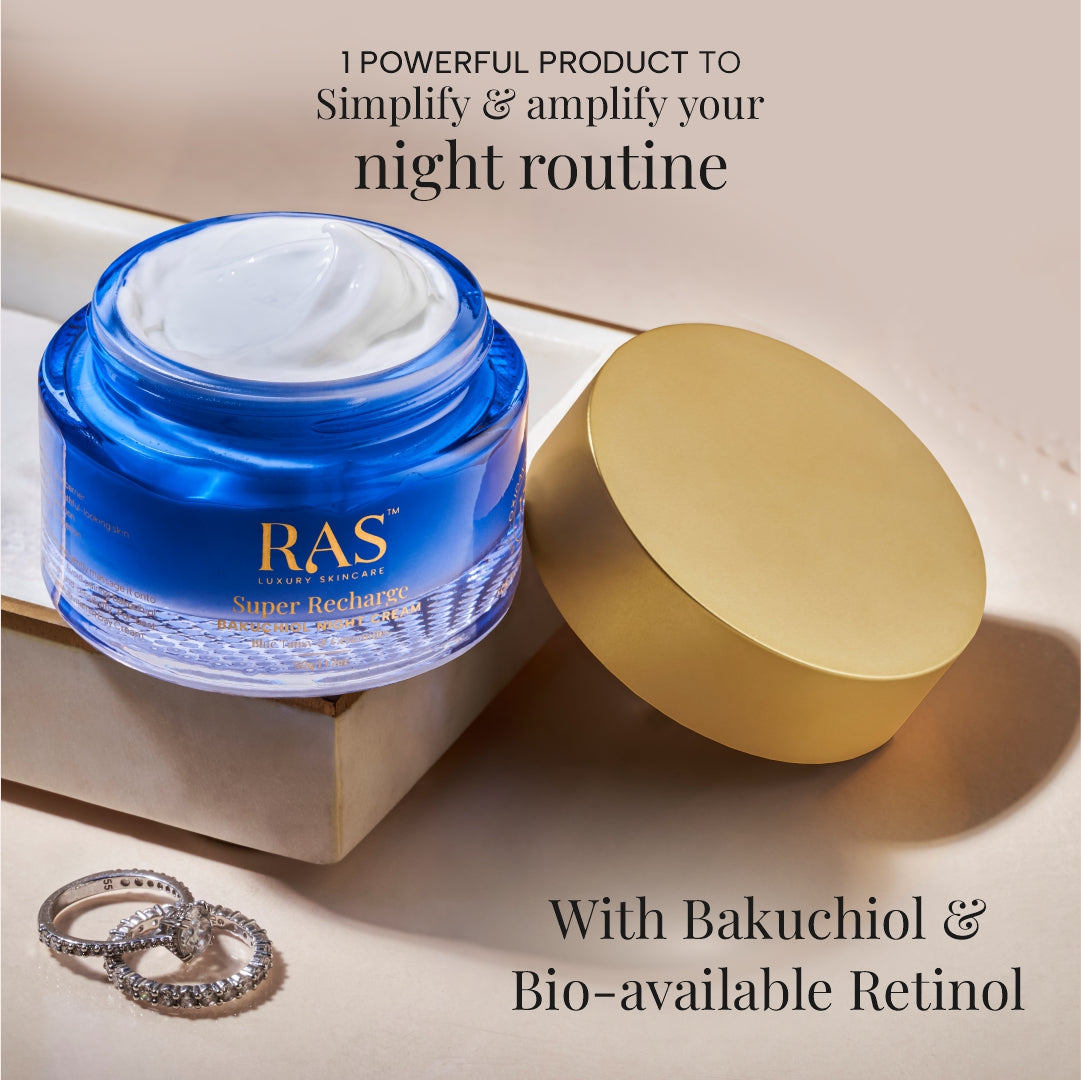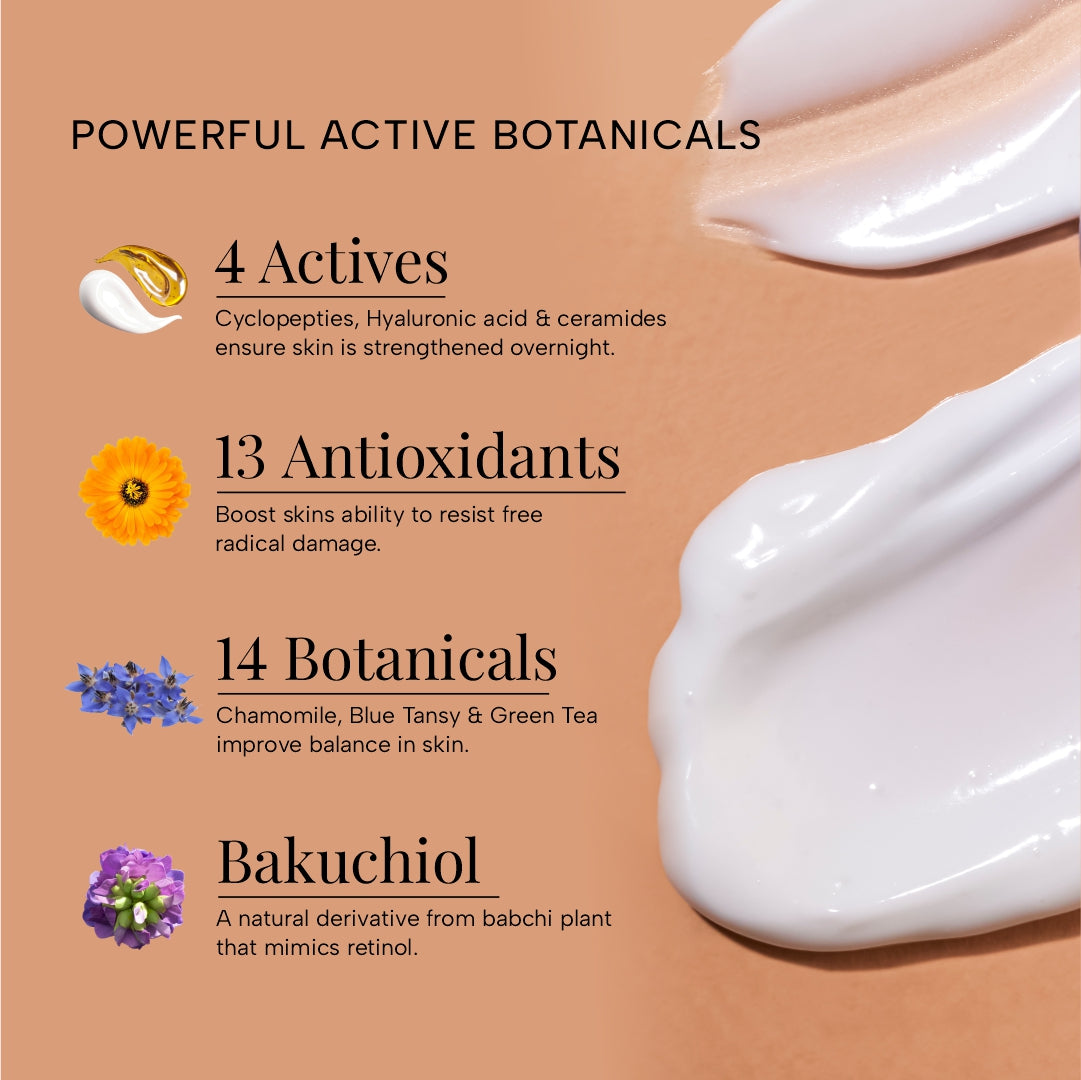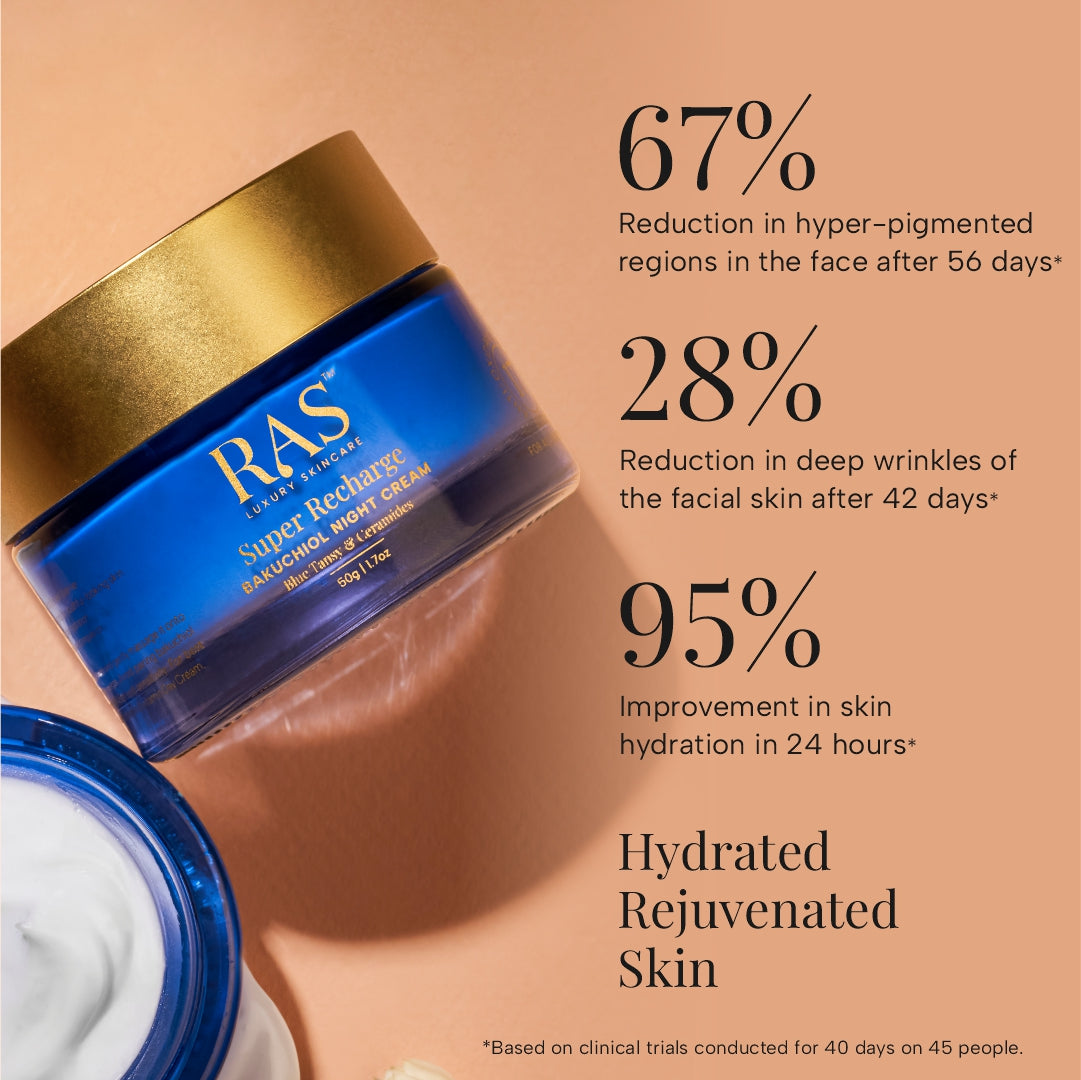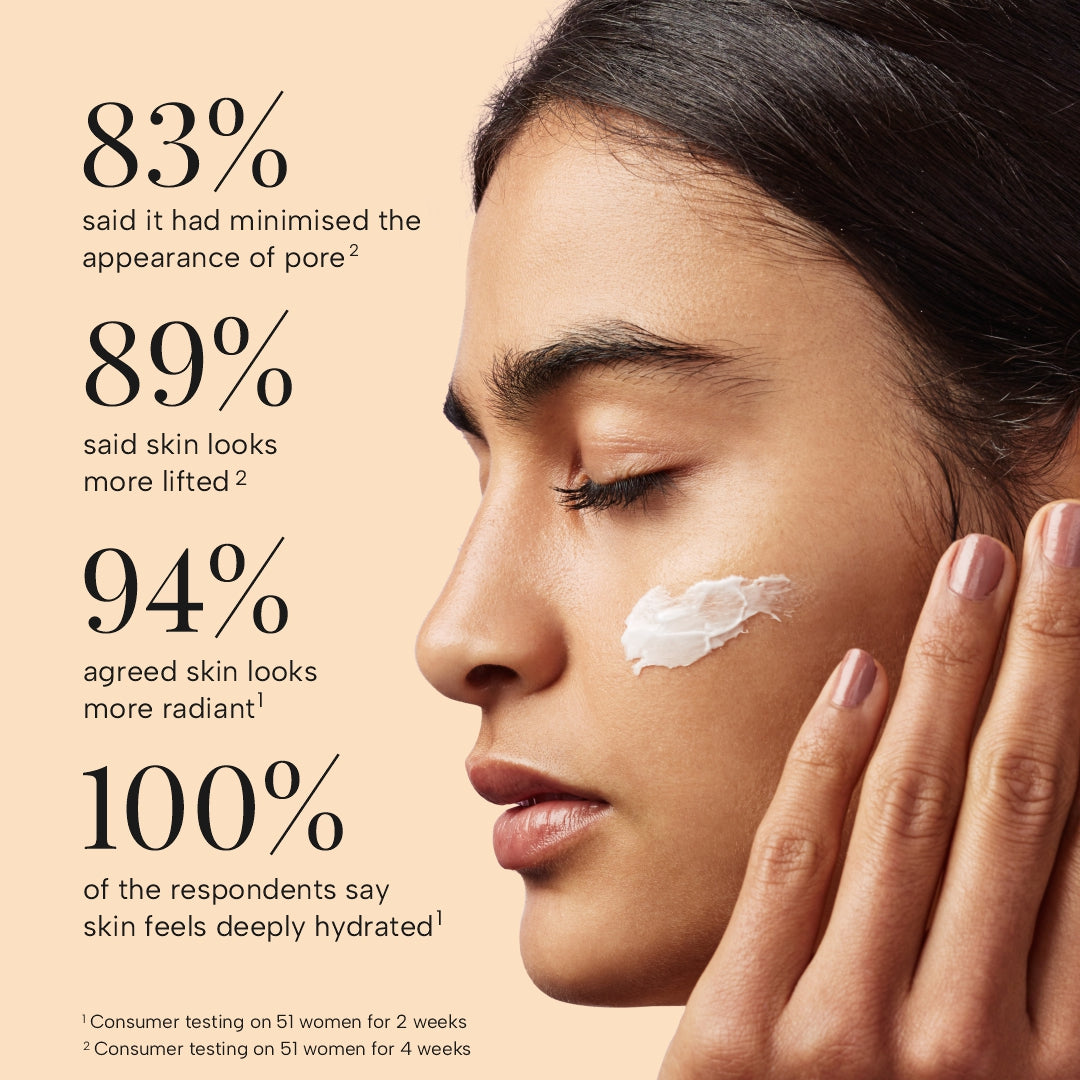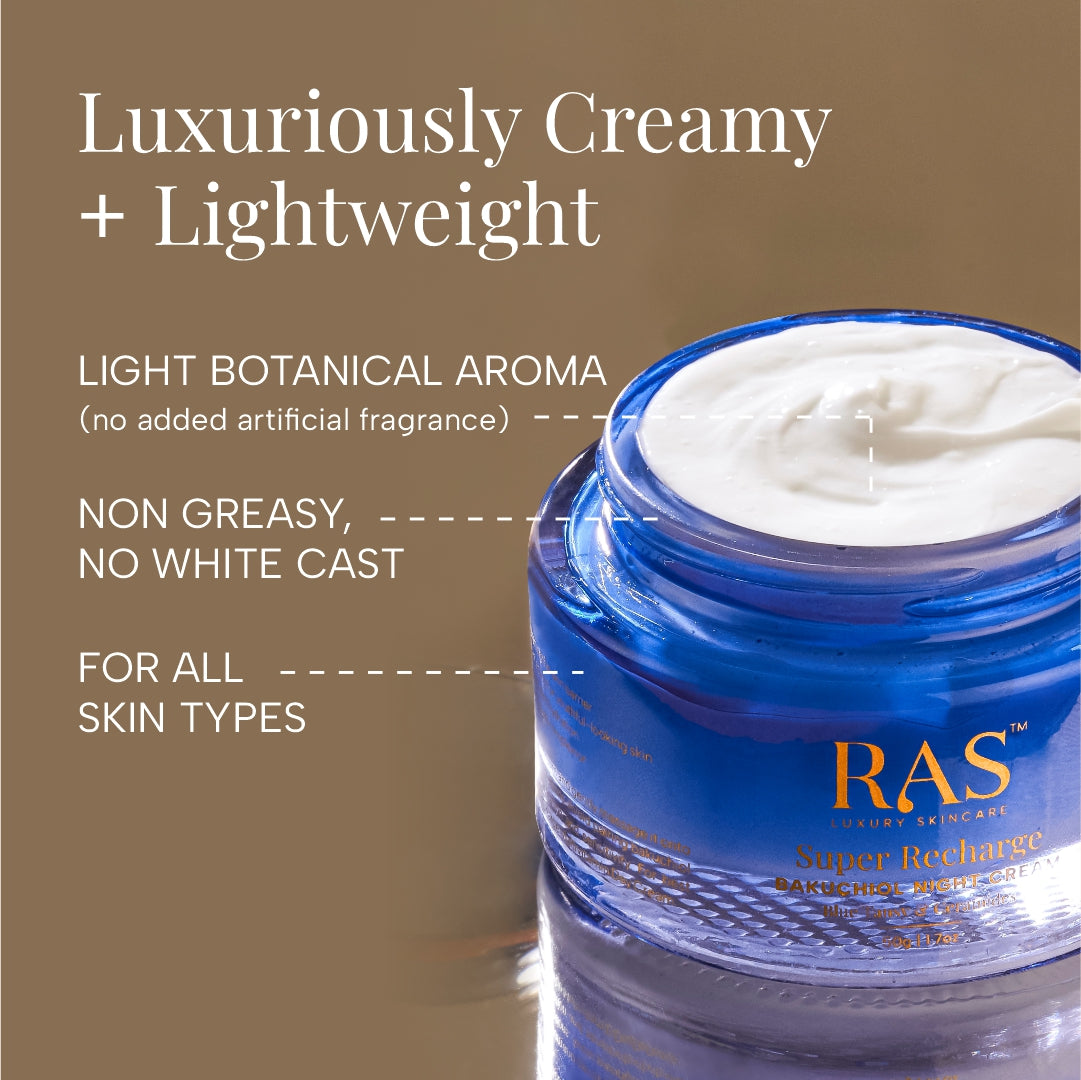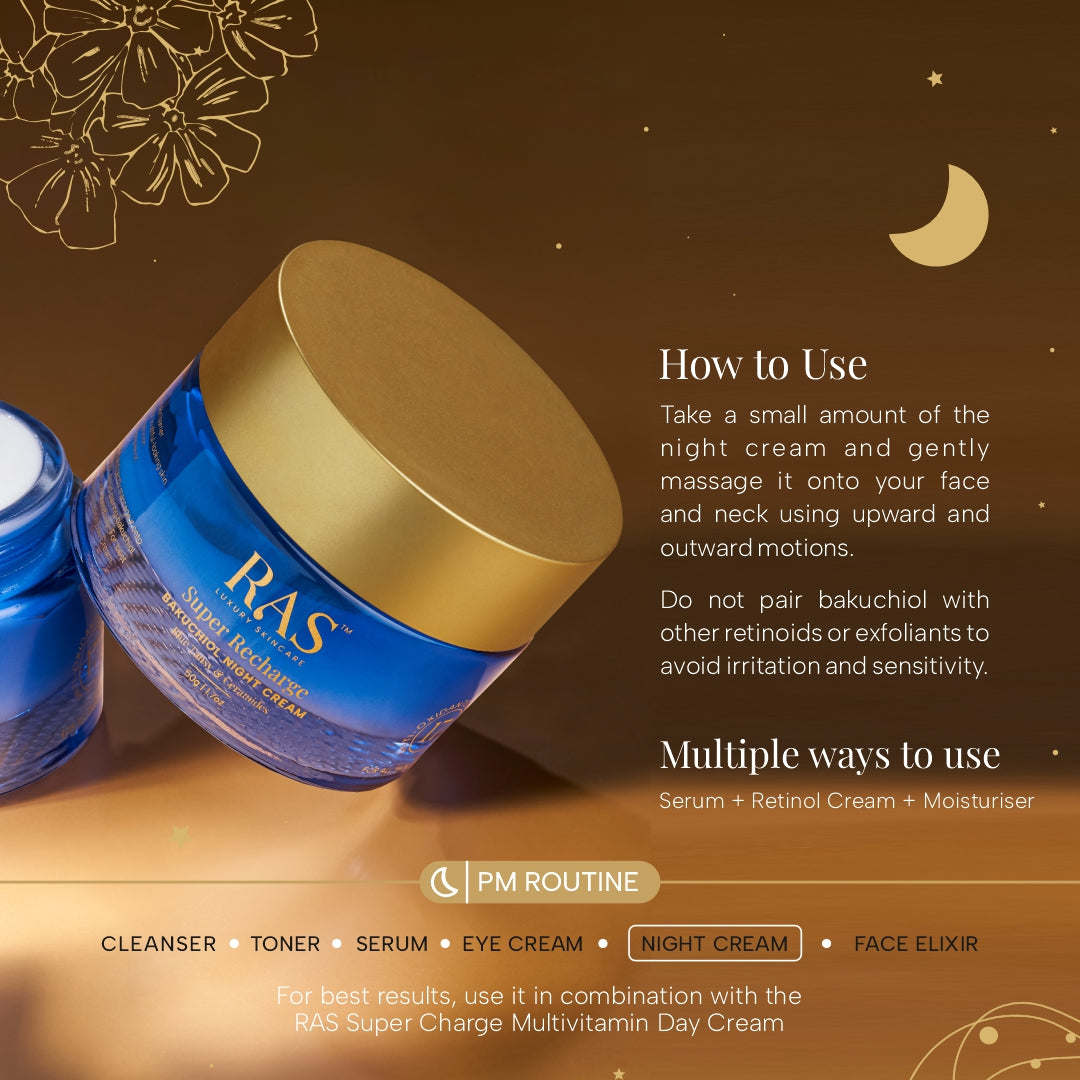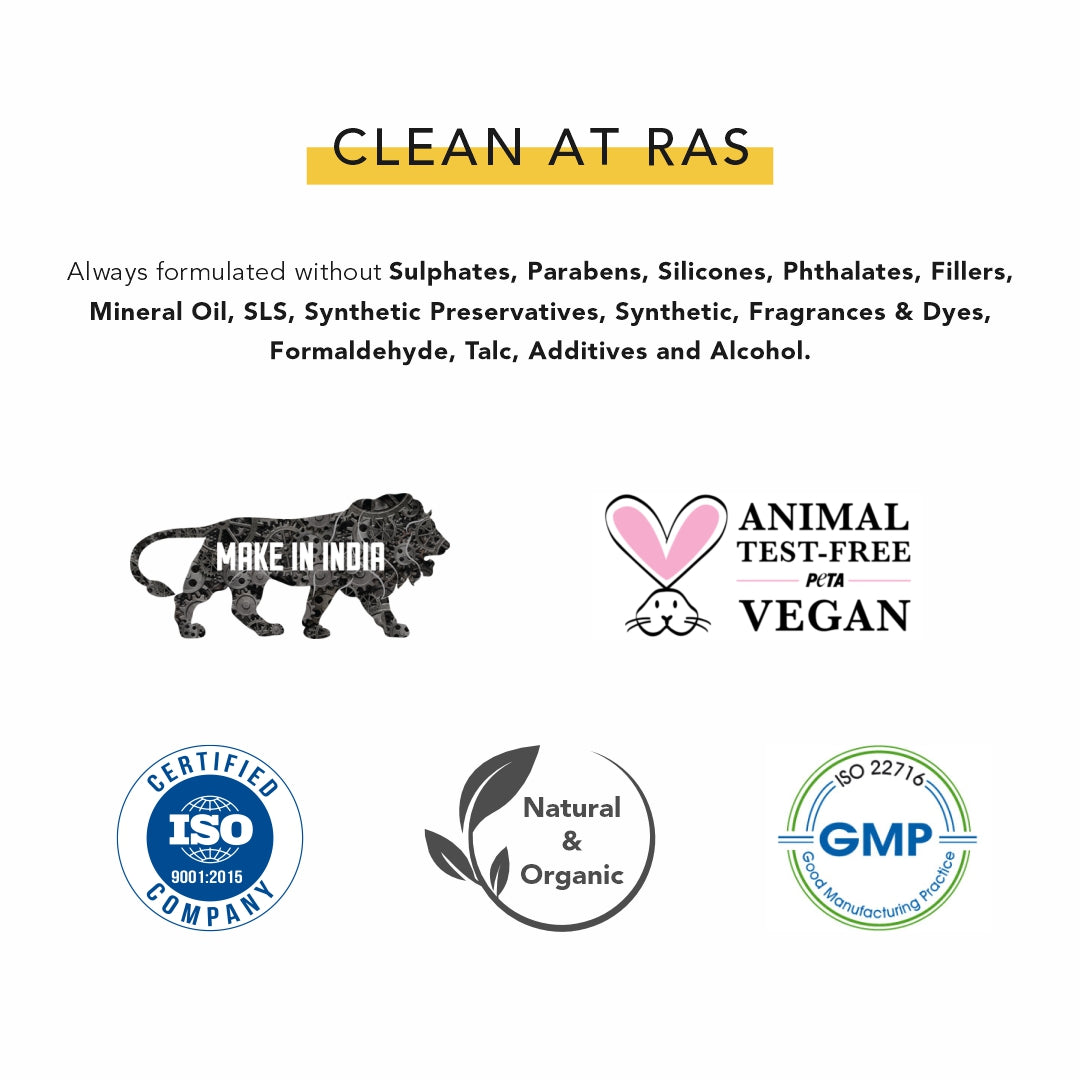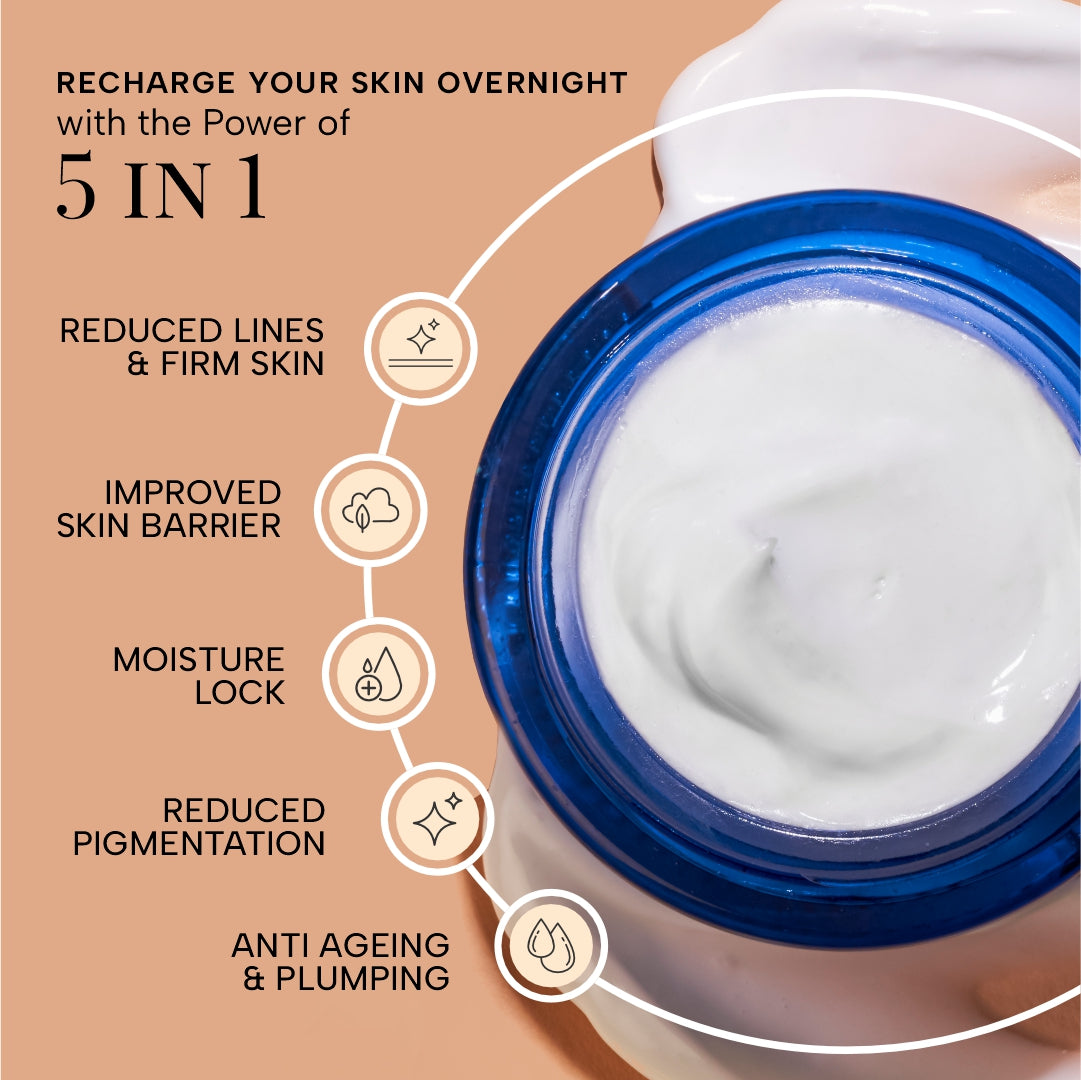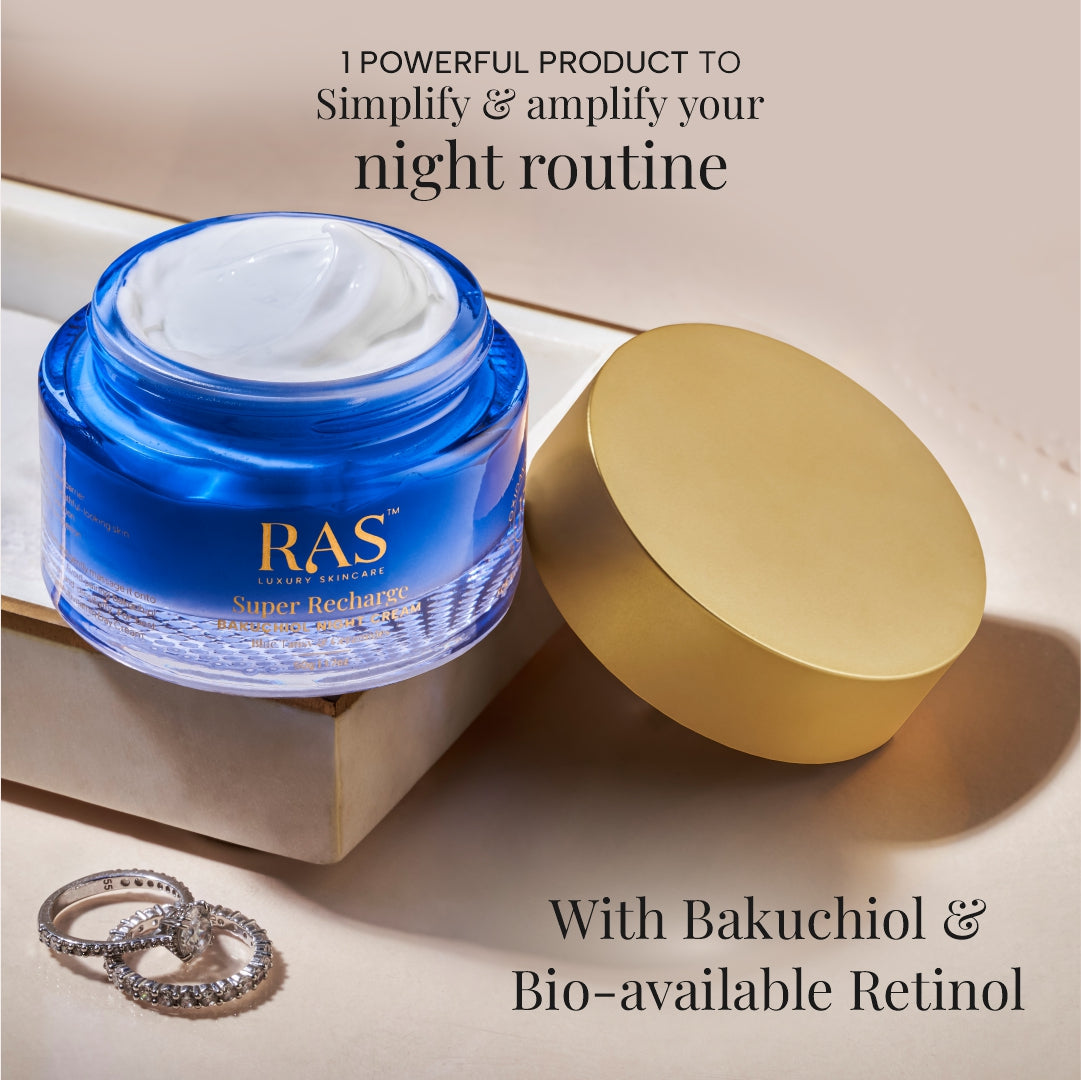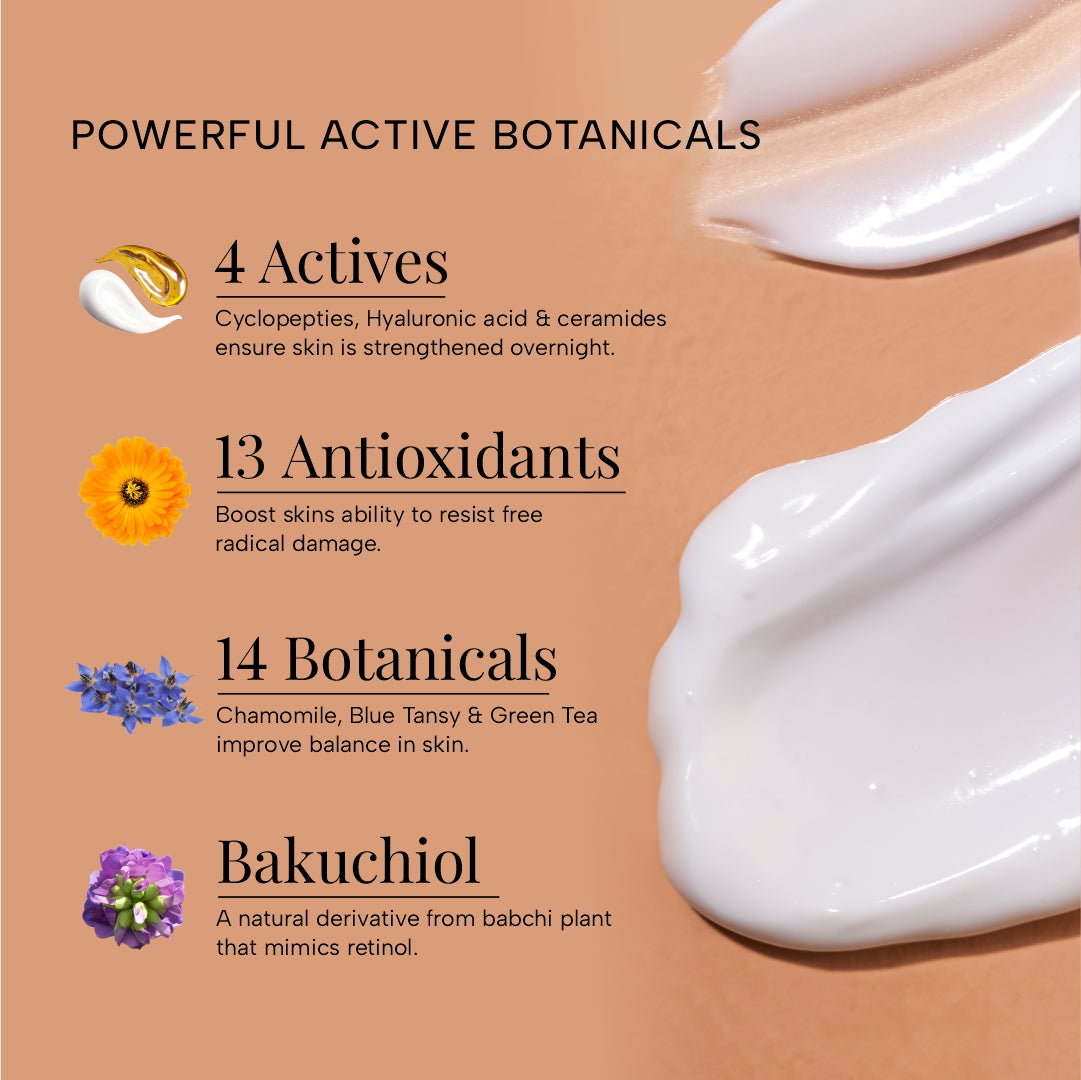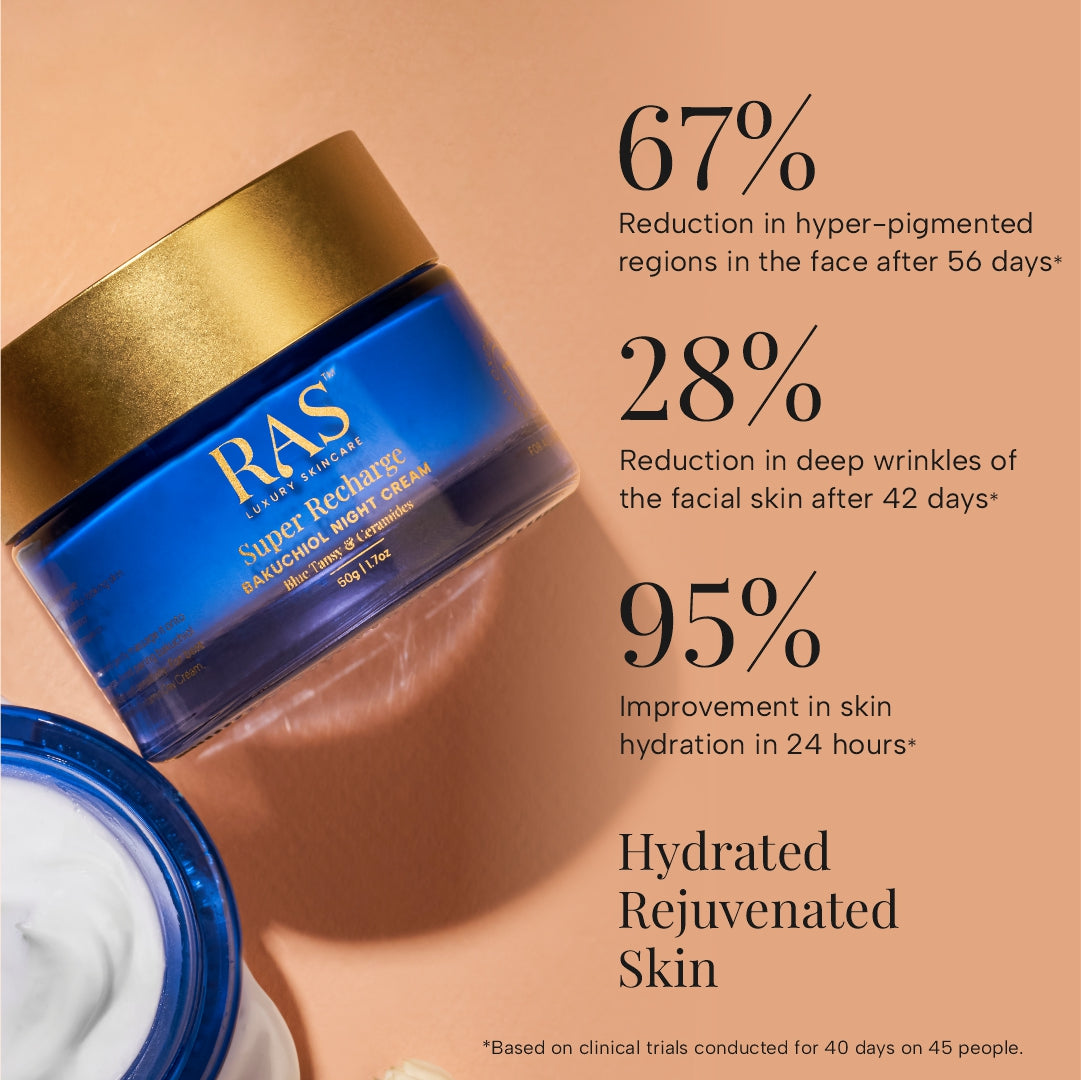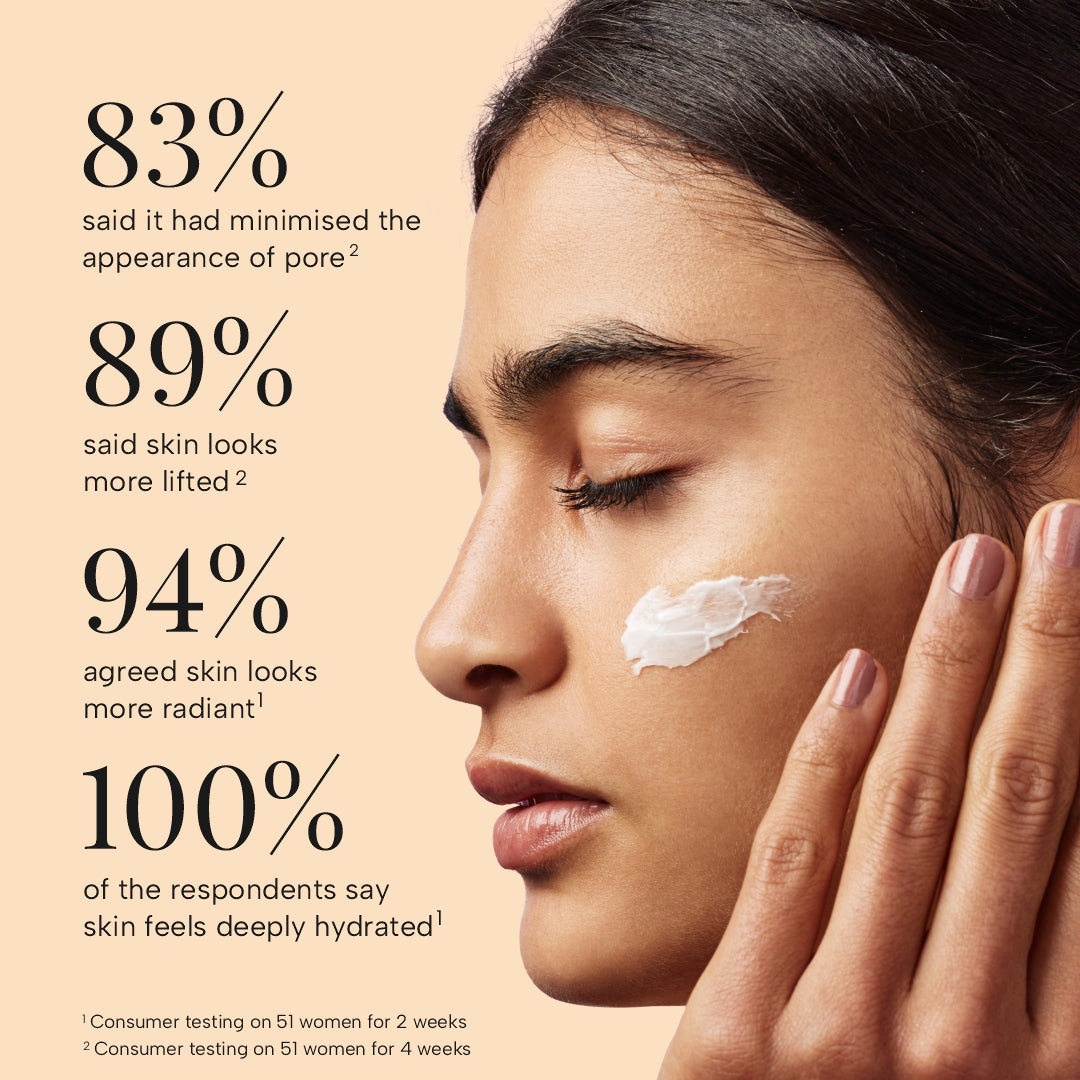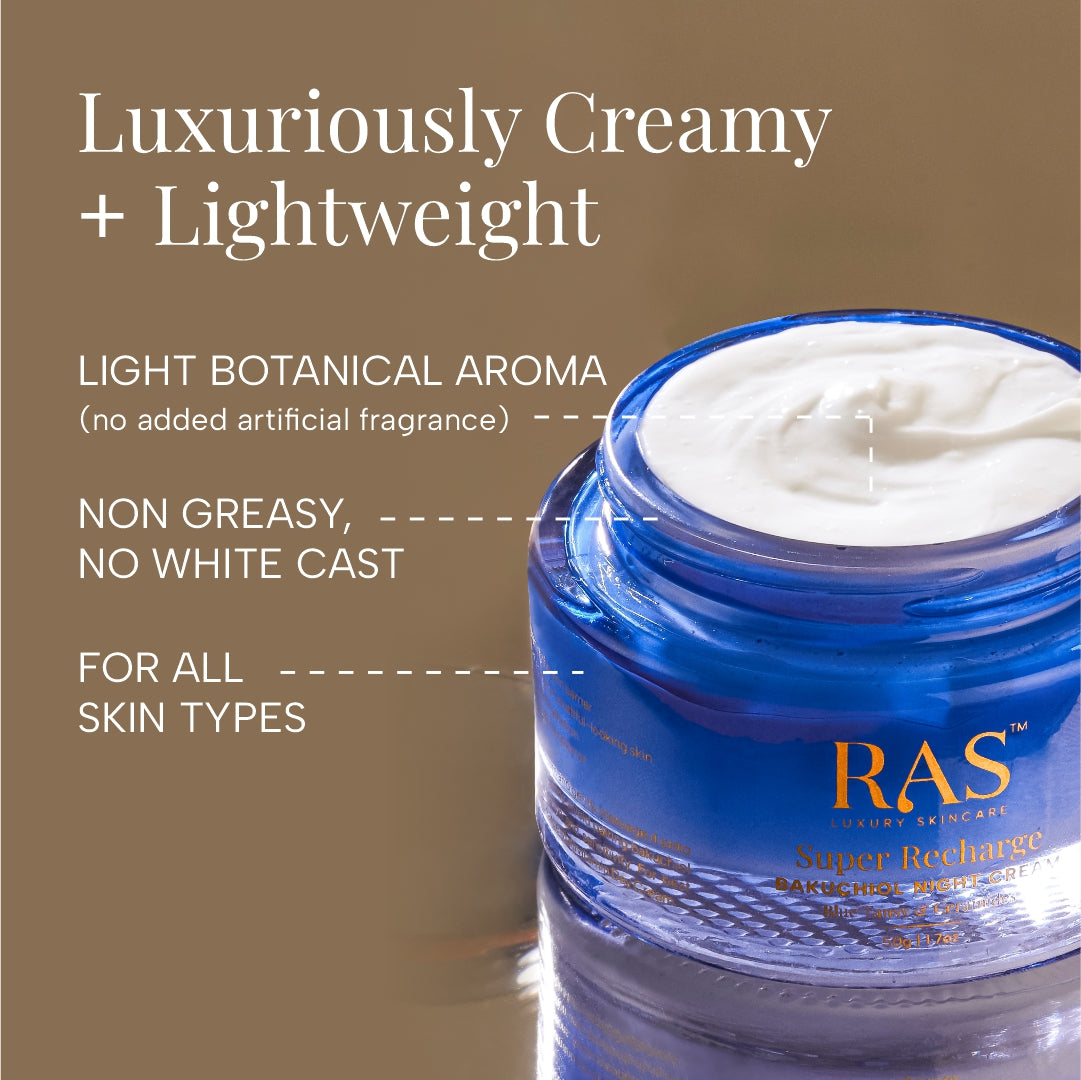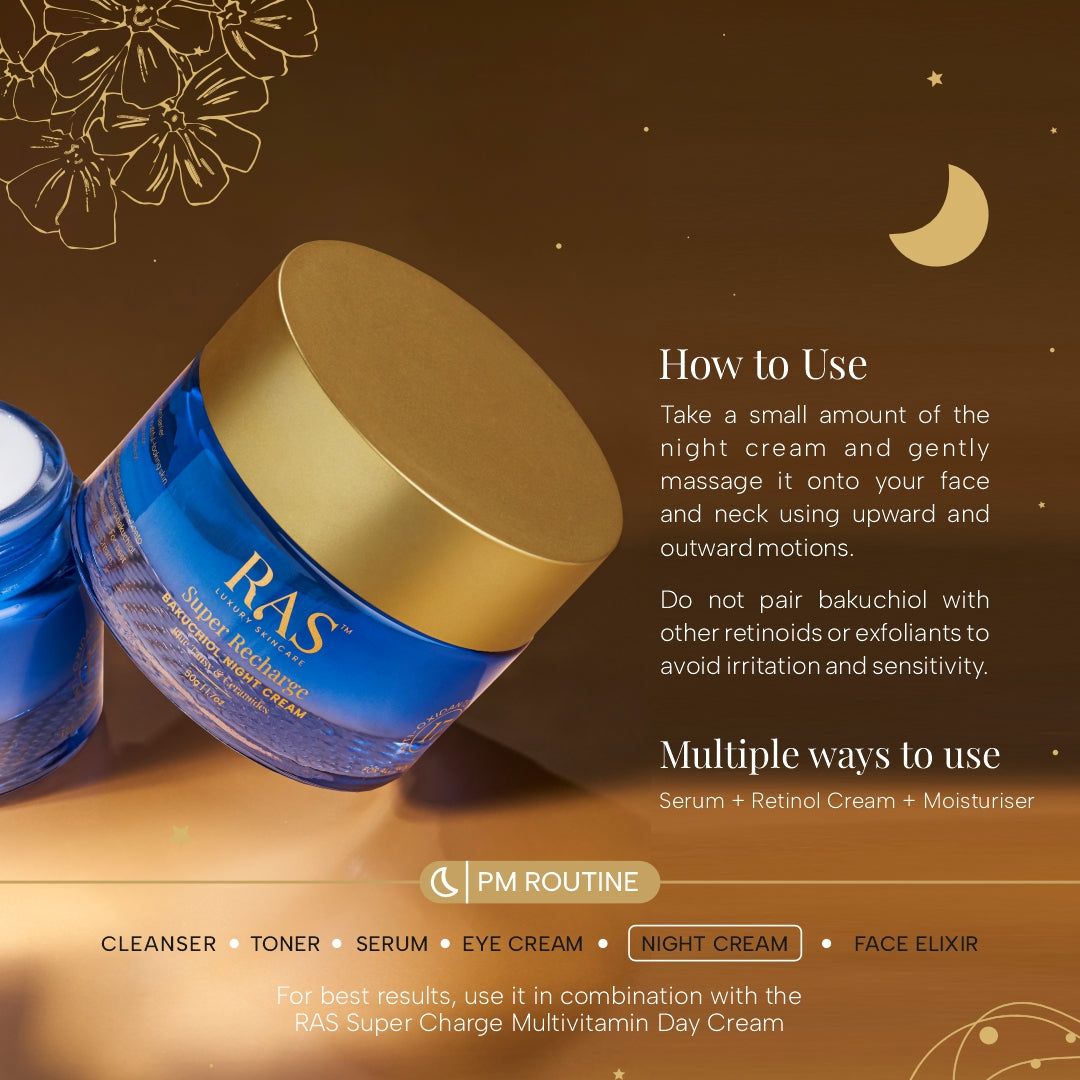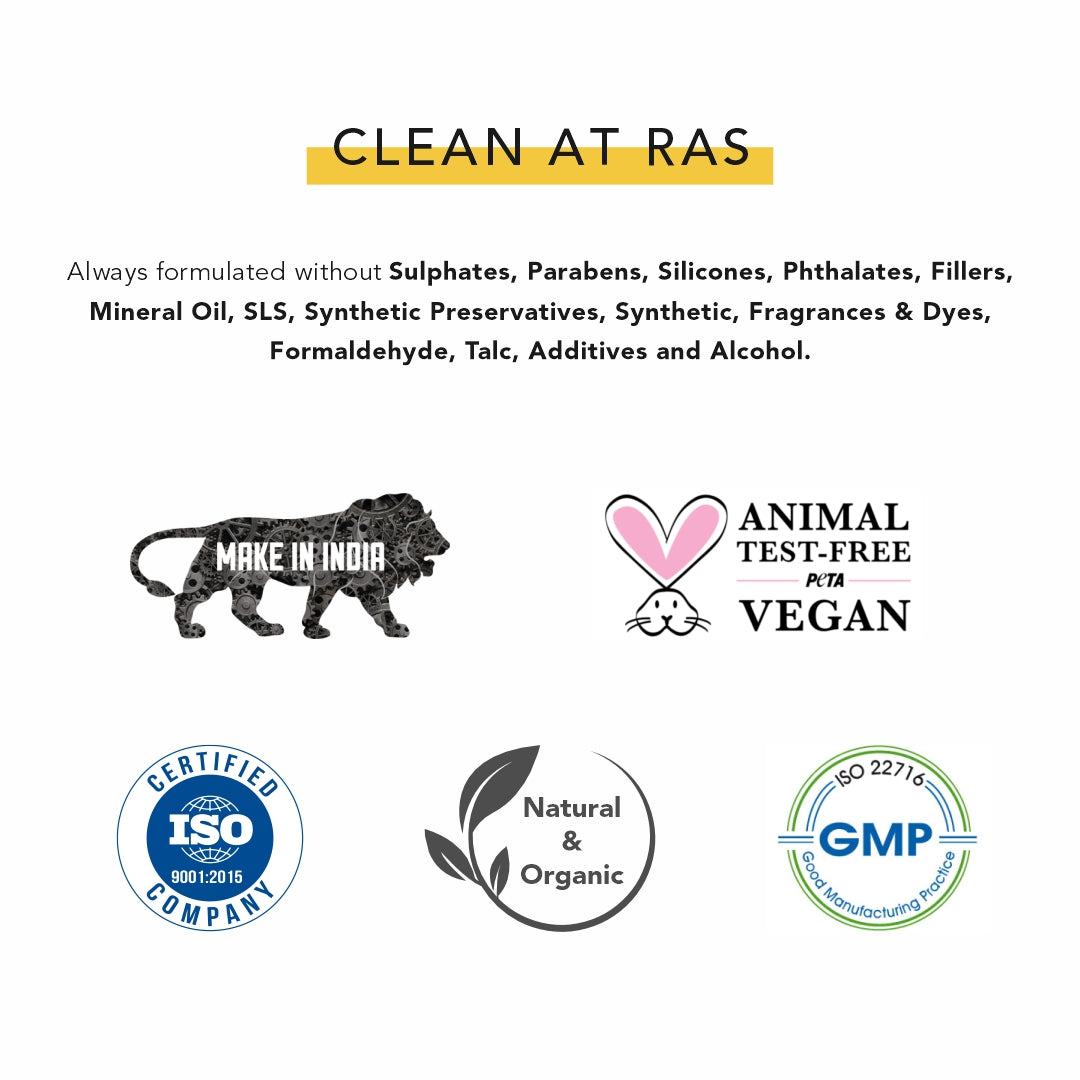 Hi. Iam using super Bakuchiol Night Cream.
It's just been 15 days I started using this product. So it's too early to say how it's working. But I can say it's a good product as it's not with strong smell, and it's giving more moisturize to my skin. Not too greezy.
Super
An excellent replacment for retinol. It is so hydrating and skin feels so supple. It has such an amazing fragrance.
I was looking a replacement for retinol as it is not safe for conceiving/pregnancy. And I came to know about bakuchiol. It is a safe ingredient. And this cream is such a saviour.
Love at first touch
My skin is dry and sensitive but my skin instantly loved this cream on 1st Touch... I sleep feeling nourished and when I wake up my face still feels moisturised and supple
Excellent
Excellent, do you think wil there be any negatives for our ras??? LOl never!!!
I love this cream! It makes your skin feel so fresh, light and smells really good, exactly what you need after a long day.
Celebrate Your Radiance With RAS
Our Philosophy stems from the desire to enchant our patrons with products containing only the 'ras' of nature and nothing else. Being the first 'farm to face' venture in India with our own farms and research lab, we make available the luxury of a beauty regime in the form of 100% pure, natural products!
Read More