Fades- Repairs- Prevents
Regular price
₹ 1,290.00
Sale price
₹ 1,030.00
Unit price
per
20% off
Inclusive Of All Taxes
Quantity: 50gm
Our Reveal Stretch Mark Prevention & Fading Oil-in-Cream, enriched with Golu Kola, Cyclopeptides, and Annatto Oil, offers a potent solution for stretch marks. This advanced formula penetrates the skin deeply, boosting collagen and elastin production, essential for skin elasticity. It promotes cell regeneration, reducing the visibility of existing marks and preventing new ones. The natural actives further help in subtly fading the discoloration of the marks, making your skin look more even-toned and refined.
Benefits
Fades color and size of existing stretch marks.

Improves skin elasticity to prevent new stretch marks.

Hydrates and boosts collagen production for smoother, firmer skin.

Made with natural ingredients, suitable for all skin types and often safe during pregnancy.
HOW TO USE

Apply a generous amount of cream to affected areas twice daily, massaging in circular motions until absorbed. Start using at the first sign of stretch marks or as a preventive measure during periods of expected skin stretching. Safe for pregnant or breast feeding women.
INGREDIENTS IN FOCUS

Cyclopeptides: Promote skin elasticity & reduces the appearance of stretch marks.

Annatto Oil: Nourishes and moisturizes the skin, improving its texture & reducing the visibility of stretch marks.

Gotu Kola (Centella Extract): Stimulates collagen production, aiding in the natural repair of the skin and reducing the appearance of stretch marks.

Hyaluronic Acid: Provides deep hydration, making stretch marks appear less prominent.
COMPLETE INGREDIENTS

Aqua (Water), Isononyl Isononanoate, Glycerine, Butyrospermum Parkii (Shea) Butter, Squalane, Theobroma Cacao (Cocoa) Seed Butter, Emulsifying Wax, Myristyl Myristate, Centella Asiatica (Gotu Kola), Rosa Canina Fruit (Rosehip) Oil, Ectoin, Lecithin, Cyclo Tetrapeptide-24 Aminocyclohexane Carboxylate, Panthenol, Zingiber Officinale (Ginger) Root Extract, Bixa Orellana (Annatto) Seed Oil, Hydrolyzed Hyaluronic Acid, Helianthus Annuus (Sunflower) Seed Oil, Cetearyl Alcohol (And) Cetearyl Glucoside, Glycine Soja (Soybean) Oil, Tocopherol Acetate (Vitamin E), Xylitylglucoside (and) Anhydroxylitol (and) Xylitol, Xanthan Gum, Malic Acid, Pyrus Malus (Apple) Fruit Extract, Glycolic Acid, Lactic Acid, Citric Acid, Polyacrylate-13 (And) Polyisobutene (And) Polysorbate 20, Phenoxyethanol & Ethylhexylglycerin, Sodium Gluconate.
ADDITIONAL INFORMATION

Keep the product in a cool dry place away from sunlight and closed at all times.

For external use only. Avoid contact with eyes, If contact occurs, rinse thoroughly with cool water. Conduct a patch test on your skin before proper application. To test your skin for allergy, apply a 1-inch patch on the inner, lower arm, rub it in and leave for 24 hours, observing any signs of a reaction. If you are already using several actives in your regime, kindly consult the team for details.

As our products are handcrafted with natural & organic ingredients in small batches, there may be slight variations in their color and aroma.

Refer to brand website for updated complete ingredient list.

This product is manufactured by:

RAS BEAUTY PRIVATE LIMITED C/o Adithya Bio-Tech Lab & Research Pvt Ltd, 14&15/7, Nandanvan Road, Chandanidih, Raipur, Chhattisgarh, India, 492099.

Country of Origin- IN
FAQ

What is the primary function of the Reveal Stretch Mark Prevention & Fading Oil-in-Cream?

This cream is specifically designed to both reduce the appearance of existing stretch marks and prevent the formation of new ones by promoting collagen and elastin production.

How often should I apply the cream for best results?

For optimal results, apply the cream twice daily – in the morning and evening, massaging it gently into areas prone to or showing stretch marks.

What are the key ingredients in this stretch mark cream?

The formula is enriched with Golu Kola, Cyclopeptides, and Annatto Oil, each contributing to skin elasticity, cell regeneration, and the fading of discoloration.

Can I use this product during pregnancy to prevent stretch marks?

Yes, this cream is formulated to help prevent stretch marks which often occur during pregnancy. However, always consult with your doctor before introducing any new products during pregnancy.

How does Golu Kola benefit my skin in stretch mark treatment?

Golu Kola is renowned for its ability to boost collagen production, enhance skin elasticity, and promote cell regeneration – all crucial factors in treating and preventing stretch marks.

How does the cream fade existing stretch marks?

The product promotes cell regeneration and contains natural actives that help in subtly fading the discoloration associated with stretch marks, leading to a more even-toned appearance.

Is this cream suitable for all skin types?

Yes, the Reveal Stretch Mark Prevention & Fading Oil-in-Cream is formulated to be suitable for all skin types. However, if you have particularly sensitive skin, we recommend doing a patch test first.

Can I use this cream in conjunction with other skincare products?

Yes, this cream can be integrated into your broader skincare routine. If layering with other products, always apply the Reveal cream after lighter serums and before thicker creams or oils.

How long before I see visible improvements in my stretch marks?

While results vary depending on the individual and the severity of the stretch marks, many users begin to notice a reduction in the appearance of their stretch marks within a few weeks of consistent use.
View full details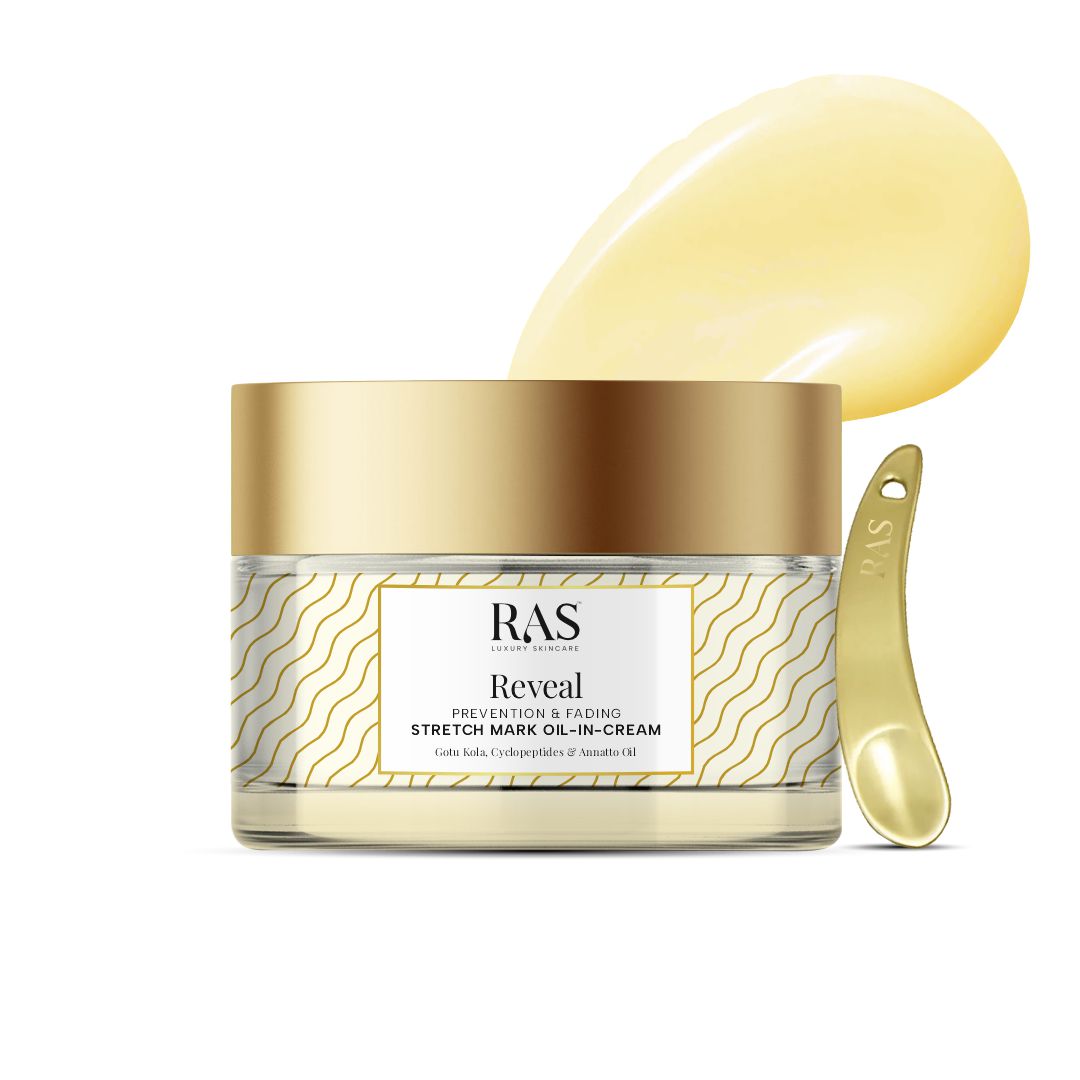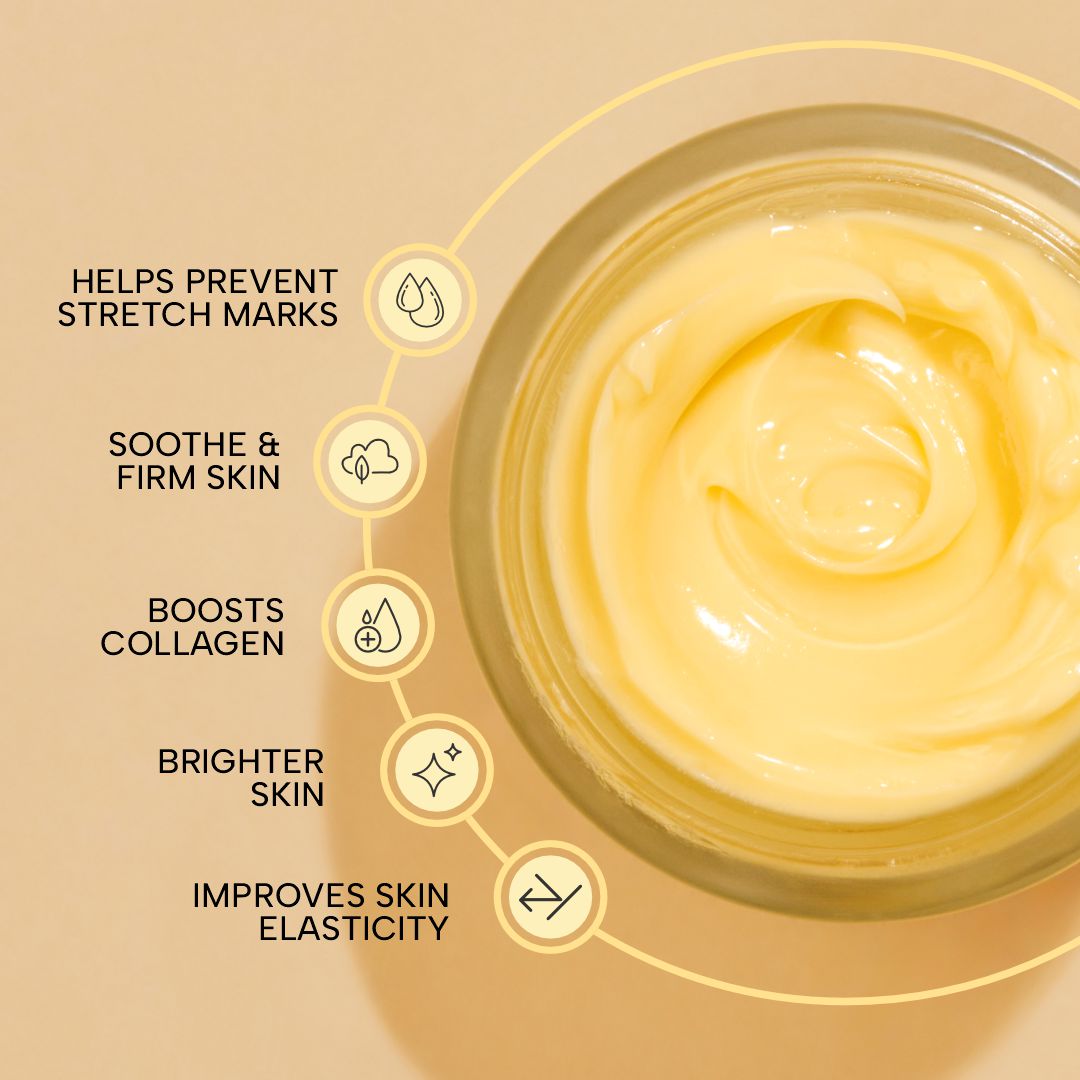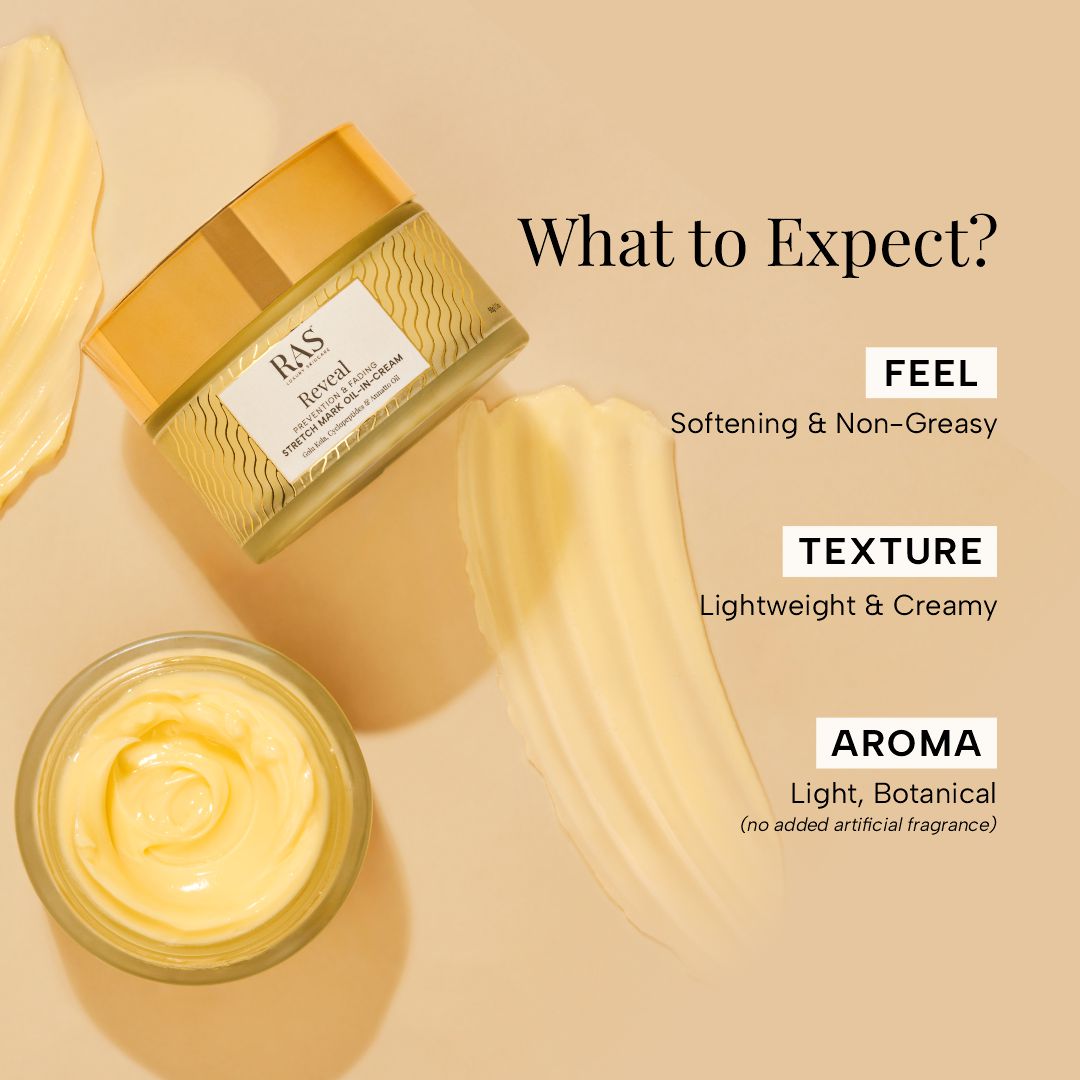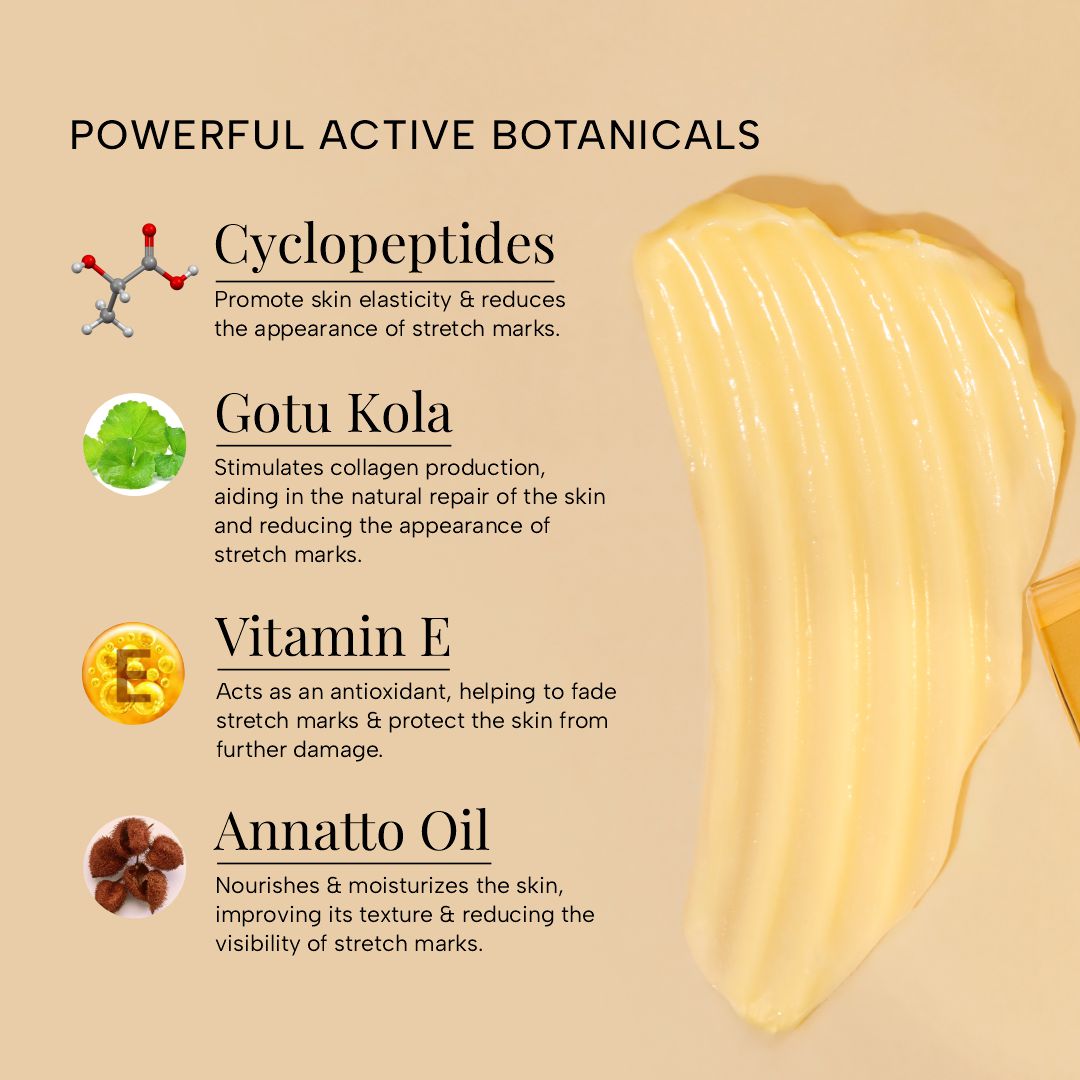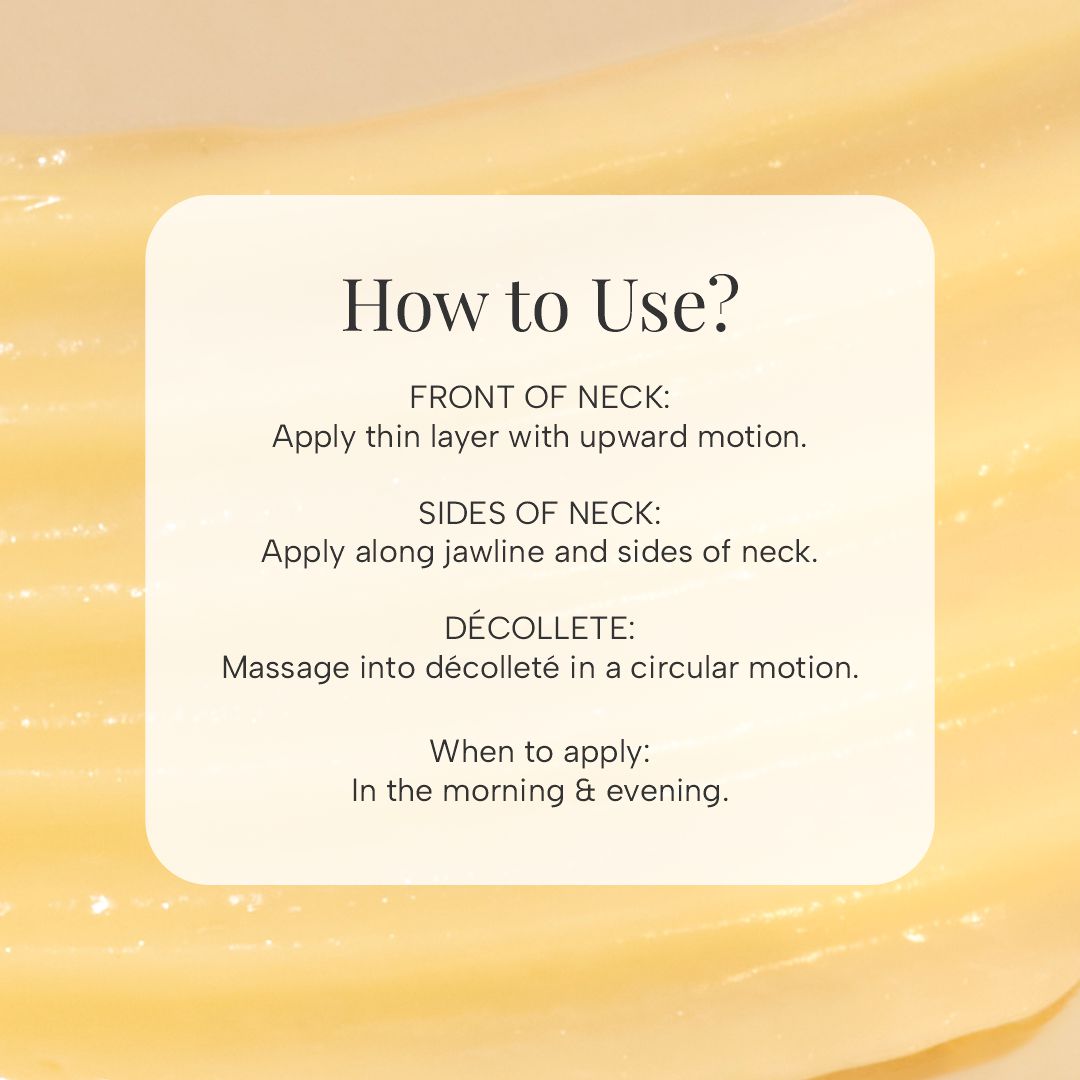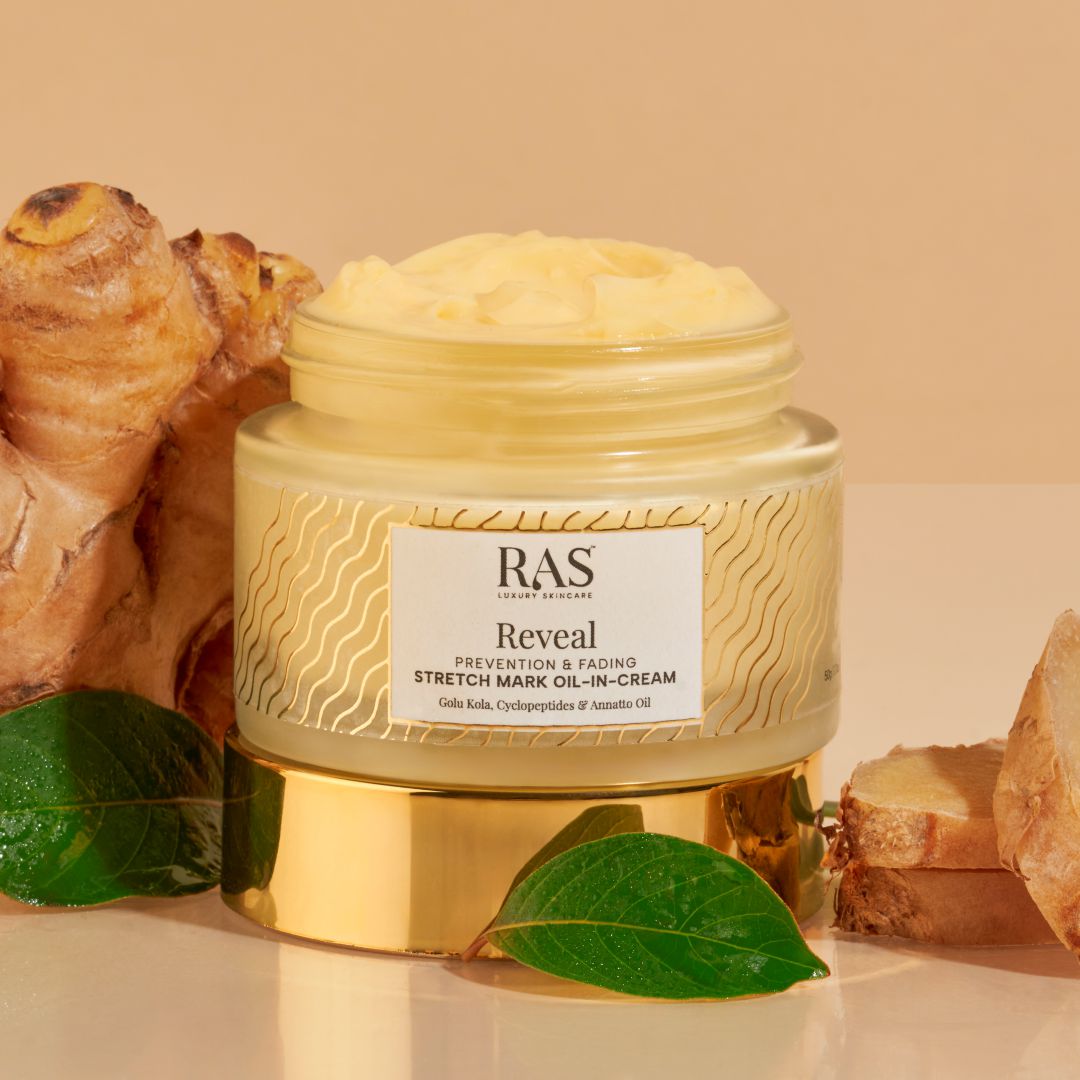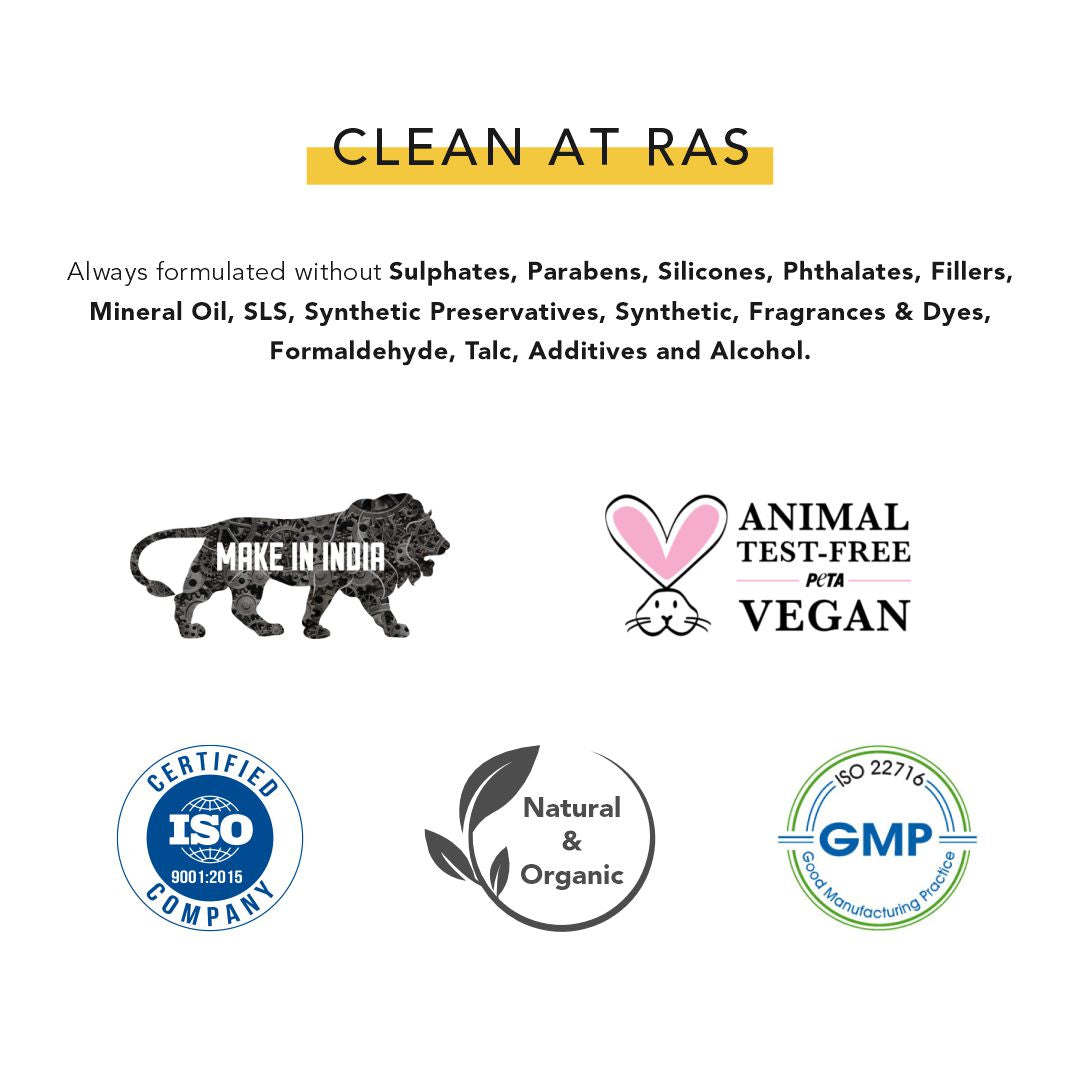 Celebrate Your Radiance With RAS
Our Philosophy stems from the desire to enchant our patrons with products containing only the 'ras' of nature and nothing else. Being the first 'farm to face' venture in India with our own farms and research lab, we make available the luxury of a beauty regime in the form of 100% pure, natural products!
Read More